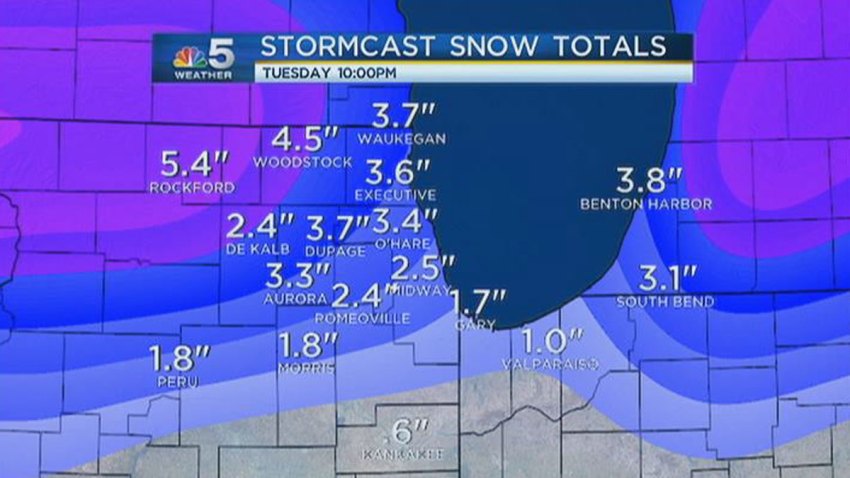 Lovers of summer warmth aren't going to enjoy this news: the Chicago area could see its first big snowfall early next week with totals hovering around 3 inches.

One preliminary forecast model generated Friday morning showed snowfall ranging from 0.5 inches in around Kankakee to as much as 4 to 6 inches around the Wisconsin/Illinois border on the ground late Monday night into Tuesday morning.
Models later Friday, however, showed much of the snow potential staying even further north.

NBC Chicago Storm Team meteorologist Andy Avalos stressed the forecast isn't a certainty but used the projection as a heads-up that the winter season is fast approaching. Read: it's time to pull the winter clothes out of storage and get homes and vehicles ready for the season's conditions.

[[281900201, L]]
A blast of damage-causing wintry weather already produced some flakes on Halloween, but next week's snowfall would be the first big snowfall of the season if the morning projection holds true.

Until then, Chicagoans, you're dealing with below-average temperatures. The mercury on Friday morning was in the 20s inland and upper 30s in the city and not expected to moderate much by the afternoon hours, despite some sunshine. Readings around the metro area should be in the mid-40s in the afternoon.

[[241082471, C]]

Looking ahead to your weekend: Saturday should be mostly sunny but breezy and chilly with temperatures again reaching the mid-40s. Sunday looks like it'll be the cloudiest of the next three days but also the warmest, with a projected high temperature of 48 degrees. There is a chance that some northern suburbs will see a mix of rain and snow during the early morning hours but that will turn into just rain by the afternoon.
[[247103881, C]]
[[243550381, C]]