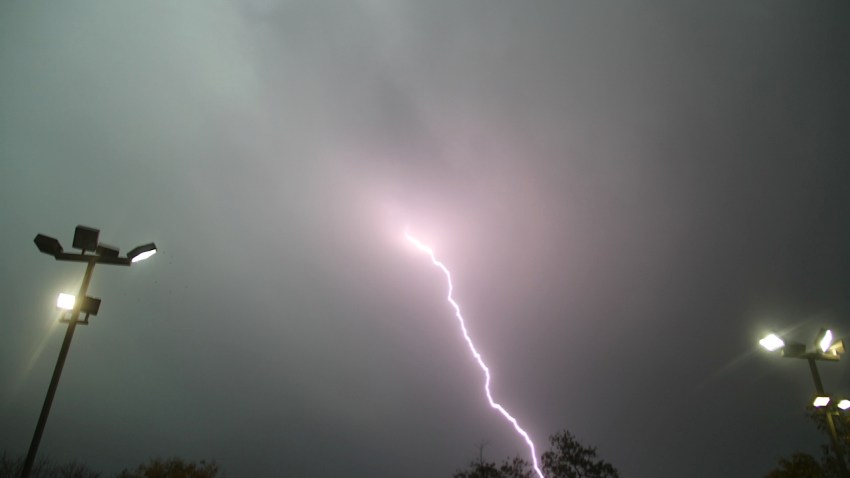 The Chicago viewing area had some stormy weather Saturday.

Saturday began quietly enough, but an approaching cold front made things interesting during the late afternoon and early evening hours.

The Storm Prediction Center placed Chicago in the "slight risk" category for severe weather. Stronger showers and thunderstorms were expected to produce some damaging winds and hail
The National Weather Service Issued a Severe Thunderstorm Warning for Cook, DuPage, Lake and Will Counties just before 3:45 p.m. Saturday.
The warnings were prompted by a severe thunderstorm located near Romeoville, Ill. that was moving northeast at 45 mph.
The storm had the potential to cause quarter-sized hail and 60 mph wind gusts, the alert stated.
"You started hearing hail," said Elmhurst resident Nick Pnzio. "the rain was coming down sideways."
Elmhurst residents said the storm didn't last long, but that it packed a punch.
St. Charles Road near Route 83 was closed for several hours Saturday due to high standing water on the street.
Flash flood warnings were also in effect Saturday for Kenosha, Wis. until 10 p.m.
Rain chances stick around Sunday, with temperatures dropping to 62 degrees.
The slow-moving cold front will stick around for a few days, creating rain chances into the start of the week.
Residents near Calumet Park on the South Side of Chicago have seen enough rain. They were cleaning up Friday morning from a thunderstorm that packed high winds, hail and pounding rain.

City crews were in the area of East 106th Street and South Avenue H with a large crane and trucks, hauling away downed trees that littered the streets.

Several residents in the area said the powerful storm lasted about 15 minutes. Officials with the National Weather Service said there was no tornado. It was straight-line winds that clocked in between 60 and 70 mph.