Two young men and a teen have been charged in connection with an attack and robbery in downtown Chicago earlier this week.

Marcus Clark and Keith Alexander, both 18 years old, face charges of felony aggravated battery in a public place and mob action. A 16-year-old boy, who has not yet been named publicly, faces charges of misdemeanor battery, robbery and mob action, authorities said.

Cook County Criminal Court Judge Israel Desierto on Thursday ordered Clark, of the 500 block of East Bowen Avenue, held in lieu of $300,000 bail and Alexander, of the 6600 block of South Peoria Street, held on $250,000 bail.

All three were arrested in connection with the attack and robbery of two people near West Chicago Avenue and North Wabash Avenue at around 8 p.m. on Tuesday.

"When we saw the first punch thrown at the kid, me and my friends took off our uniforms and just darted over there trying to help," witness Cory Bynum said at the time. "We get there, [the victim was] coughing up blood, his face is like really bloody and he's all, 'Oh, they just stole $350 from me.'"

Other attacks involving several people ganging up on individuals include a Thursday morning attack on the brother of Smashing Pumpkins frontman Billy Corgan, weekend attacks on Chicago Transit Authority buses and others in Streeterville and along the lakefront.

Three people have been charged in connection with the attacks on CTA buses.

McCarthy said that all of the incidents shouldn't be thought of as being connected, but said that police do have a plan to combat the rash of attacks.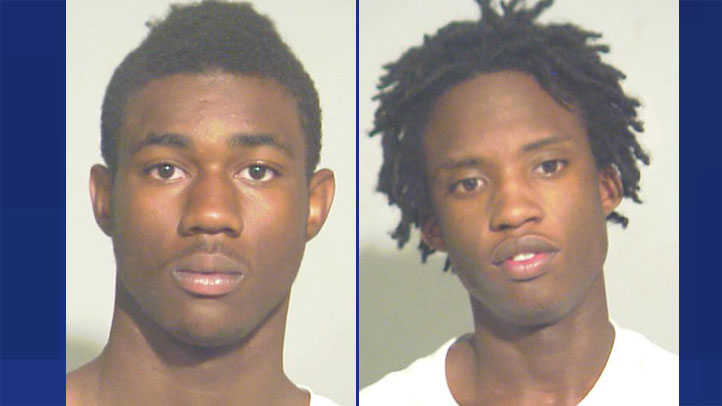 Marcus Clark (L) and Keith Alexander (R) are charged with robbery.