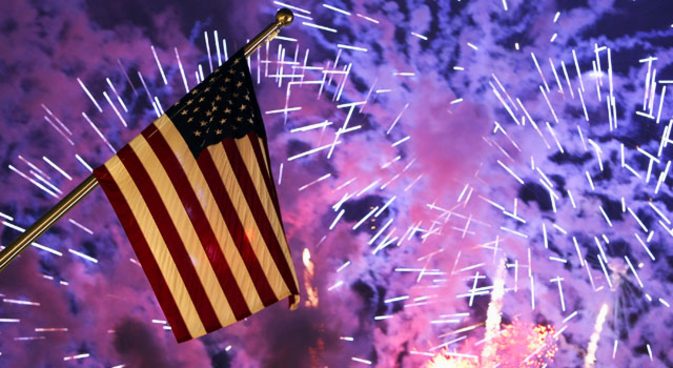 After Chicago's recent announcement that the city will no longer sponsor fireworks at the Taste of Chicago this year, residents have reacted saying they will deal with the crowds, not go at all or even travel to the suburbs for Independence Day celebrations.

With the Independence holiday barely a month away, are the 'burbs ready for the city to come to them?

Some communities were caught off guard with the thought of city-goers flooding their festivals this year.

"I never thought of that," Michelle Tuft said, head of the Recreation Department in the Skokie Park District.

Tuft explained the Skokie community has never competed with the Chicago fireworks due to the shows being on different days. However, an influx of Chicago residents is possible for communities like Skokie that are easily accessible by public transportation.

After letting the idea set in for a moment, Tuft explained Skokie does have room for Chicagoans at the celebration.

"We run our own fireworks and they're pretty darn good," Tuft said.

Delia Nila Basile, Office Coordinator for Public Information for Aurora, also hadn't thought of an influx of people for that community's Independence Day festival and 25 minute firework display but said there's enough room for everybody.

"We have a lot of space, but maybe we should prepare ourselves for more," she said.

Wilmette Park's Executive Director Steve Wilson knows Chicago's cutbacks were necessary, however he said it will affect his community.

"As much as I would like for [Chicago] to continue their fireworks so we don't have excessive crowds, I know they have to make tough decisions," he said.

Wilson said Wilmette is already preparing for a bigger crowd for their July 3 display by speaking with their support staff support systems and police to figure out what amount of staff is necessary on site.

The change in fireworks displays during the Taste started last year. Former Mayor Richard Daley scaled back on fireworks to cut security costs with three synchronized displays at Montrose Harbor, 59th Street and Navy Pier. Large crowds at Navy Pier forced police to turn people away for the first time in history.

This year, Chicago is hands off with fireworks and is letting the Metropolitan Pier and Exposition Authority pay for two 15-minute displays on July 2 and 4 happening only at Navy Pier.

"We can't afford fireworks," Mayor Rahm Emanuel said Wednesday. "We don't have the resources."

Although some people are trying to be understanding about budget cuts, there is still disappointment in losing the tradition.

"It was a part of my childhood," said 18-year-old Bolingbrook resident Lauren LeDay. "Now plans for this year's Fourth of July have completely changed. It was a tradition that has been ruined."

Basile, a former Chicago resident, is personally saddened by the news as well.

"I used to watch the fireworks all the time. I felt an emptiness hearing that today," she said.

Crowded conditions could come from more than just disappointed Chicago residents looking for another celebration to take part in. Suburb residents who normally come to the city for the fireworks could stay home this year.

Aurora resident Shefali Shah, 37, was upset by the cancellation.

"It will be a major disappointment for the kids," Shah said after hearing the announcement. "This year we definitely won't be coming into the city for the Fourth because of this."

However, Aurora's Public Information Coordinator, Kevin Stahr, is looking forward to an a larger crowd in his community. He would like to see Chicagoans come to Aurora as well as Aurora residents come to their festival and fireworks display.

In the past, Aurora has felt the pang of budget cuts like Chicago but has found work-arounds for residents. Aurora paired with the city of North Aurora to save money on their Independence Day celebration.

"That was the initial goal, to save money and still keep a quality event going that people have come to expect throughout the years," Stahr said.
Not all suburbs are concerned about crowds for July 4. Liz Gogola, Marketing Director for the Glenview Park District, is not anticipating a bigger crowd than normal for their fireworks show synced to patriotic music. Like Skokie, Glenview has not had to compete with Chicago during July 4.

"People have always had the opportunity to come here for our fireworks," Gogola said.
Of course, not all residents believe the cutbacks are a problem.

"I'd rather see fireworks cut than social programs," Shaura Lambright of Western Springs. "So we'll see what Navy Pier's fireworks have to offer this year."