St. Patrick's Day may not be until Friday, but Chicago was more than ready to celebrate the holiday this weekend.
Festivities kicked off with the annual dyeing of the Chicago River at 9 a.m. Saturday morning. Thousands of spectators decked out in their finest green apparel gathered downtown to observe the tradition, now in its 55th year. Watch the Chicago River Being Dyed Green in 15 Seconds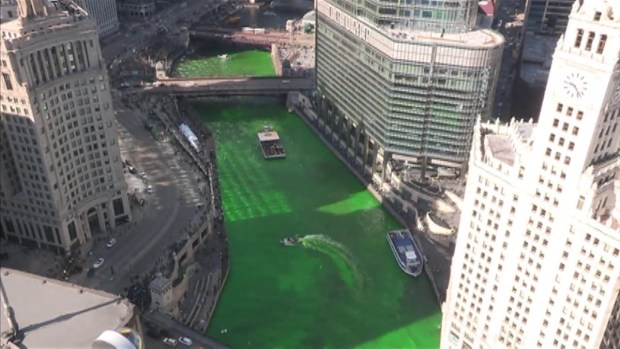 Members of the Chicago Journeymen Plumbers union have been dumping a secret concoction off the sides of their boats since 1962.
It takes more than 45 pounds of the environmentally friendly vegetable dye to color the water, using a powdered formula that begins orange before it mixes with the water to turn the river bright green.
Photos: Chicago Kicks off St. Patrick's Day Celebrations
Hours later, the city's St. Patrick's Day Parade stepped off nearby at the corner of Columbus Dr and Balbo Ave around 12 p.m. Marchers headed north to Monroe St for around three hours.
Saturday's parade was just the first of many celebrations across the city.
7 Ways to Celebrate St. Patrick's Day in Chicago
The Irish American Heritage Center hosted a St. Patrick's Festival all day Saturday, while the South Side Irish Parade and the Northwest Side Irish Parade were both scheduled to begin at 12 p.m. Sunday.
Published at 12:25 PM CST on Mar 11, 2017 | Updated at 9:30 AM CDT on Mar 12, 2017