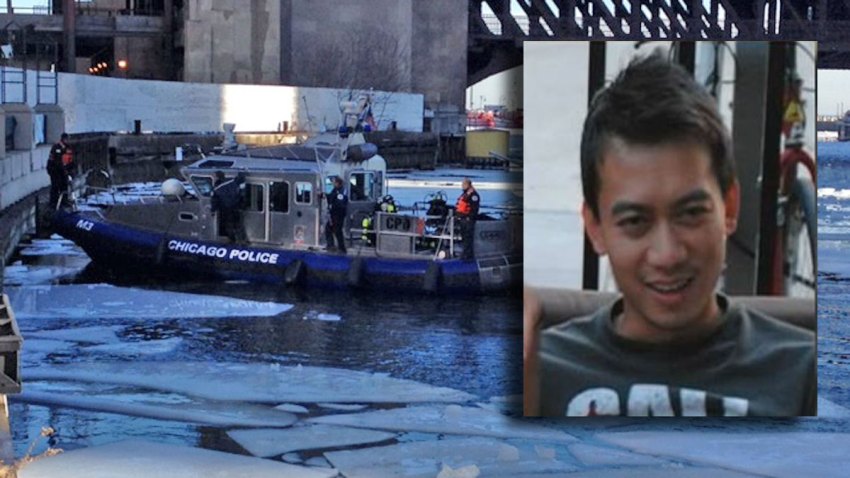 One man was dead and a woman was missing Monday morning after they fell into the Chicago River while trying to retrieve a cell phone, officials said. A third person who was pulled from the water was hospitalized.

Rescue crews were called to the Chicago River on the 400 block of East Water Street, in Chicago's Streeterville neighborhood, just after midnight on reports of people in the water.
"Within about four minutes our company was on the scene and began rescue efforts," said Chief Linda Parsons.

The two men were quickly retrieved but the search for the woman went on for nearly three hours before being suspended. Officials resumed their search after sunrise but hadn't come up with anything by Monday afternoon.

Authorities said Ken Hoang, 26, from St. Paul, Minn., climbed over a fence and fell in the water while trying to find a phone he'd dropped. A 23-year-old man and the 21-year-old woman fell in while trying to help him.

"I kept talking to him, like who was he with? Was there anybody else with him?" a witness said. "He told me he had a friend that he was holding onto and that there was a girlfriend, too, that fell in the water that was under the water but he couldn't find her."

Hoang was taken to Northwestern Memorial Hospital where he was later pronounced dead. The 23-year-old man was taken to Presence Saint Joseph Hospital where he was listed in stable condition.
Police divers spent much of Monday searching the cold, murky bottom of the Chicago River for the woman's body.
Passerbys say they can't believe the incident was sparked by a cell phone.
"I guess I can understand the impulse," said Joanne Haas. "Your cell phone is sort of part of you, we are kind of tied to it. But it's only a cell phone. To risk your life is incredible."

A Dallas woman last month died shortly after being rescued from the icy Chicago River near the Michigan Avenue Bridge.