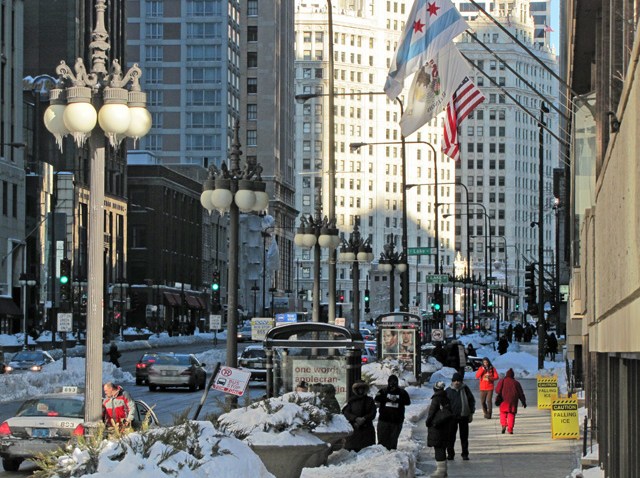 Photos | Share Your Photos | Forecast | Closings
Traffic | Airports | Metra | CTA | Chicago OEMC
Trains are moving, roads are plowed, commuters are headed into work. A day after city residents were told not to drive or leave their houses, businesses are reopening and much of Chicago is returning to life per usual.
Though Chicago Public Schools and Chicago City Colleges remain closed, lights are popping back on at stores and coffee shops. Last night, plows moved to start clearing side streets. Just before 6 a.m., Lake Shore Shore Drive was reopened a day and a half after the city closed it and left as many as 900 cars stuck there. (Drivers still looking for their abandoned cars can search for it at this newly created database of 519 cars.)
ComEd told residents that power should be restored by this afternoon, and CTA service is back to full schedules. All but one Metra line is open and running.
Airports are shaking the flurries off planes and preparing for takeoff as soon as possible. Still, more than 1,000 flights have been canceled at O'Hare and 30 flights canceled at Midway this morning, so if you're flying, check airline websites.
Newspapers are reporting that Chicago will see an economic impact because of closed businesses on Wednesday. Yesterday morning, downtown storefronts were shut down and even Woodfield Mall in Schaumburg took the day off. Dominick's stayed opened, but for several hours all Jewel grocery stores were closed, the Chicago Tribune reports.
The city continues to remove snow and clean up after the storm. There's a lot of work still to do, and some cars are still packed into snow-covered alleys. But for now, the city's reawakening and moving on after the third largest snowfall in its history.