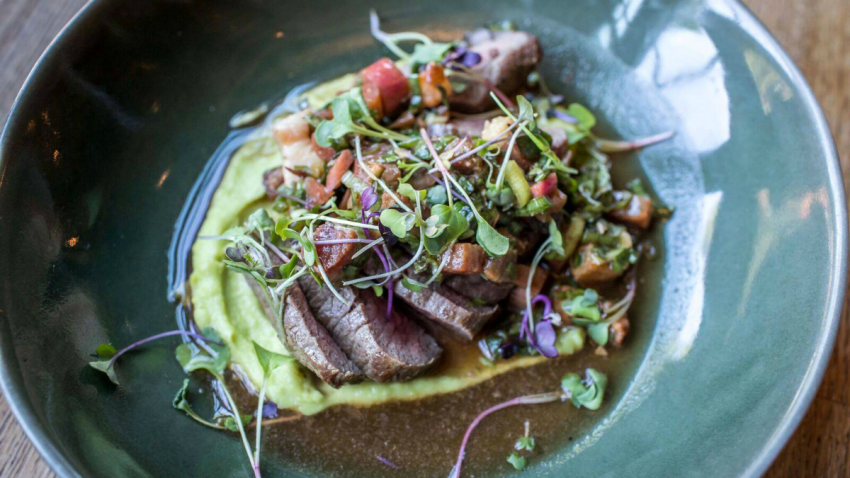 Nine Chicago restaurants were included on OpenTable's annual list of the Best 100 Restaurants of in America for 2018.
The list was comprised of picks "from more than 12 million verified diner reviews of over 28,000 restaurants in all 50 states and Washington, D.C." gathered between Nov. 1, 2017, and Oct. 31, 2018, according to OpenTable, the online restaurant reservation provider.
Illinois received the third highest number of mentions, preceded by New York with 24 and California with 15. The most popular cuisine? American and Italian, according to the list, quickly followed by French, Indian, Japanese, Korean, Mediterranean and Middle Eastern.
"From foodie-favorites with world-renowned chefs to breakthrough hidden gems, the list showcases the platform's comprehensive network of dining options for every occasion across the country," an OpenTable spokeswoman said in a statement.
Here's how the list was determined, according to OpenTable: "All restaurants with a minimum 'overall' score and number of qualifying reviews were included for consideration. Qualifying restaurants were then sorted according to a score calculated from each restaurant's average rating in the 'overall' category."
100 Best Restaurants in America for 2018
AgriVino - Carlton, Oregon
The Arthur J - Manhattan Beach, California
Atlas - Atlanta, Georgia
Auberge du Soleil - Rutherford, California
Avra Madison Estiatorio on 60th - New York, New York
The Bar Room at The Modern - New York, New York
Benu - San Francisco, California
Bistro 31 - Dallas, Texas
Blue Ridge Grill - Atlanta, Georgia
BOCA - Cincinnati, Ohio
Boka - Chicago, Illinois
BONDST - New York, New York
Bones - Atlanta, Georgia
Bouchard Restaurant and Inn - Newport, Rhode Island
Buccan - Palm Beach, Florida
Bull & Bear Steakhouse - Orlando, Florida
Cafe Monarch - Scottsdale, Arizona
Cafe Provence - Prairie Village, Kansas
The Capital Grille - Multiple Locations*
Casa Lever - New York, New York
Chez Billy Sud – Washington, D.C.
Chi SPACCA - Los Angeles, California
Costa Brava Bistro - Bellaire, Texas
Del Posto - New York, New York
The Dining Room at Castle Hill Inn - Newport, Rhode Island
Double Knot - Philadelphia, Pennsylvania
Ema - Chicago, Illinois
Estiatorio Milos - New York, New York
Frances - San Francisco, California
Gabriel Kreuther - New York, New York
Geronimo - Santa Fe, New Mexico
Gibsons Italia - Chicago, Illinois
Girl & the Goat - Chicago, Illinois
Gramercy Tavern - New York, New York
GW Fins - New Orleans, Louisiana
Highlands Bar & Grill - Birmingham, Alabama
Il Mulino New York - Downtown - New York, New York
Il Segreto - Bel Air, California
The Inn at Little Washington - Washington, Virginia
Joe's Seafood, Prime Steak & Stone Crab - Multiple Locations, including Chicago
JUNGSIK - New York, New York
Kappo Masa - New York, New York
Kinship - Washington, D.C.
Koi - West Hollywood, California
Kokkari Estiatorio - San Francisco, California
KYU - Miami, Florida
L'ATELIER de Joël Robuchon - New York, New York
La Nouvelle Maison - Boca Raton, Florida
Lafayette Restaurant - Washington, D.C.
LArtusi - New York, New York
The Lawn at Castle Hill Inn - Newport, Rhode Island
Le Bilboquet - Dallas - Dallas, Texas
Le Diplomate - Washington, D.C.
Majorelle - New York, New York
Mama's Fish House - Paia, Hawaii
Maple & Ash - Chicago, Illinois
Marc Forgione - New York, New York
Marea - New York, New York
Market Restaurant and Bar - Del Mar, California
Matsuhisa Denver - Denver, Colorado
Mesero - Inwood Village - Dallas, Texas
The Metro Wine Bar & Bistro - Oklahoma City, Oklahoma
Mistral - Sherman Oaks - Sherman Oaks, California
The Modern - New York, New York
Neighborhood Services - Lovers - Dallas, Texas
Noord - Philadelphia, Pennsylvania
Omakase Room by Tatsu - New York, New York
Oriole - Chicago, Illinois
Parc - Philadelphia, Pennsylvania
Phoenicia - Birmingham, Michigan
The Polo Bar - New York, New York
Quince - San Francisco, California
Raoul's - New York, New York
Rasika - Washington, D.C.
Rich Table - San Francisco, California
RL Restaurant - Chicago, Illinois
RPM Italian - Chicago, Illinois
Ruth's Chris Steak House - Baton Rouge - Baton Rouge, Louisiana
Saloon Restaurant - Philadelphia, Pennsylvania
Salum Restaurant - Dallas, Texas
Shinsei Restaurant - Dallas, Texas
SHU - Sushi House Unico - Bel Air - Bel Air, California
Sistina - New York, New York
Sotto - Cincinnati, Ohio
Steak 44 and Steak 48 – Multiple Locations*
Steve & Cookie's By the Bay - Margate, New Jersey
Sushi Ginza Onodera - NYC - New York, New York
Sushi Kaito - New York, New York
Sushi Kappo Tamura - Seattle, Washington
Sushi Nakazawa - Sushi Bar - New York, New York
The Table at Season To Taste - Cambridge, Massachusetts
Talula's Garden - Philadelphia, Pennsylvania
Terzo - San Francisco, California
Tosca Ristorante - Washington, D.C.
Toscana - Los Angeles, California
Tutta Pesca - Hoboken, New Jersey
Uchi- Dallas - Dallas, Texas
UMI - Atlanta, Georgia
Vetri Cucina - Philadelphia, Pennsylvania
Zahav - Philadelphia, Pennsylvania