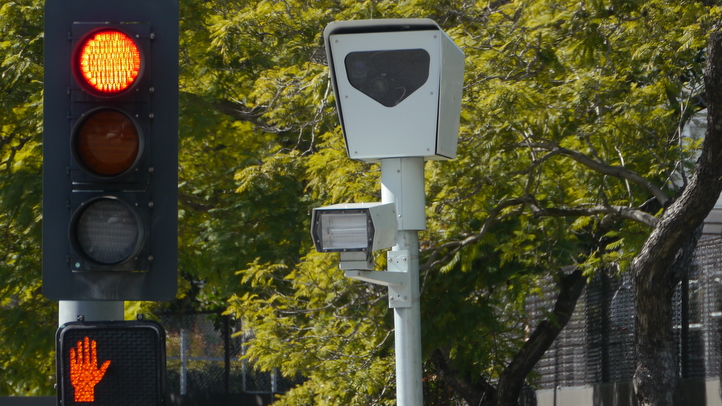 Red light cameras at 18 Chicago intersections will be removed from operations because of a low "crash rate," officials announced.

The intersections where the 36 cameras currently exist had no right-angle crashes or only one right-angle crash and a "total crash rate" of less than one percent. The "total crash rate" is calculated from Illinois Transportation Department data by dividing the total number of crashes in a year by the average daily traffic counts at the intersection, officials from Mayor Rahm Emanuel's office explained.

The 18 intersections where red light cameras will be removed are:
Osceola and Touhy Avenues
Kedzie and Devon Avenues
Harlem and Higgins Avenues
Sheridan Road and Hollywood Avenue
Austin and Belmont Avenues
Cicero and Belmont Avenues
Halsted and Belmont Avenues
California and North Avenues
Wells and North Avenues
Kostner Avenue and Division Street
Clark Street and Cermak Road
California Avenue and 35th Street
California Avenue and 47th Street
Pulaski Road and 71st Street
Wentworth Avenue and 65th Street
Racine Avenue and 79th Street
79th Street and Cottage Grove Avenue
Stony Island Avenue and 89th Street
In a response to an inquiry by Chicago's inspector general, city officials said they check red light camera effectiveness "every year to year and a half." Ten cameras from five intersections have previously been relocated.

Inspector General Joe Ferguson back in May argued the city couldn't substantiate claims that red light cameras were placed at "intersections with the highest angle crash rates." His audit did not specifically list those questionable intersections. City officials responded by saying that cameras were placed at intersections based on the latest available state crash data.

With the removal of these latest cameras, the city will have 348 red light cameras monitoring 172 intersections.

The red light camera program brought in more than $60 million for the city last year.