With Chicago Mayor Rahm Emanuel stepping aside, and a number of young progressive challengers vying for aldermanic seats, City Council could look quite different after the Feb. 26 municipal elections. Here's a look at 12 big races happening across the city —
MAYOR
Before Chicago Mayor Rahm Emanuel announced in September 2018 that he would not seek a third term in office, there were already about a dozen other candidates vying to take him on. After he dropped out of the race, even more threw their hats in the ring - making the field of candidates running to be Chicago's next mayor the largest in city history.
In total, 14 mayoral hopefuls made it to the ballot after a long and contentious series of petition challenges - an old tradition of filing legal objections to opponents' petition signatures in an effort to knock the competition out of the race. They include, in order of their appearance on the ballot:
Jerry Joyce, an attorney and lobbyist who previously served as a Cook County assistant state's attorney. Joyce is the son of former 19th Ward Ald. and state Sen. Jeremiah Joyce, who worked closely with former Mayor Richard M. Daley.
Paul Vallas, the former Chicago Public Schools CEO who led the district from 1995 to 2001 and has served as superintendent for multiple other school districts in New Orleans; Bridgeport, Conn.; and Philadelphia. Vallas also served as the city's budget director from 1993 to 1995, and previously ran for Illinois governor in 2002, losing in the Democratic primary to now-disgraced former Gov. Rod Blagojevich. Vallas later unsuccessfully ran for lieutenant governor alongside then-Gov. Pat Quinn in 2014.
Willie Wilson, who ran for mayor in 2015 as well as president in 2016. Wilson is a millionaire businessman who owned several McDonald's franchises and founded a medical supply company. Shortly after announcing his candidacy, Wilson donated $100,000 to his own committee - lifting the self-funding limit to allow candidates to contribute any amount to their own committees throughout the election. In 2018, Wilson came under fire for giving away cash from his charitable foundation at church and community events to help Cook County residents with property taxes. Opponents said the stunt was designed to buy votes, though the Illinois State Board of Elections ruled that it did not violate any campaign finance laws.
Toni Preckwinkle, the current Cook County Board President and chair of the Cook County Democratic Party. Preckwinkle has been board president since 2010, and prior to that was elected to five terms as alderman of the 4th Ward on the city's South Side. In April 2018, she became chair of the Cook County Democratic Party after Assessor Joe Berrios lost his primary election. Preckwinkle enjoys significant support from organized labor, particularly Service Employees International Union Local 1 and the Chicago Teachers Union. She championed the ill-fated soda tax, which was repealed amid public outcry just months after it went into effect in August 2017. If Preckwinkle were to win, she would become the first mayor to also chair the Cook County Democratic Party since Richard J. Daley.
Bill Daley, the son of one mayor and brother of another. Richard J. Daley, who served as mayor for 21 years, is Bill Daley's father, and his brother Richard M. Daley became the longest-serving Chicago mayor before declining to run for a seventh term in 2011. Bill Daley was U.S. Secretary of Commerce under President Bill Clinton from 1997 to 2000, and White House chief of staff for President Barack Obama from 2011 to 2012. A familiar name in Chicago politics, Bill Daley briefly entered the race for Illinois governor in 2013 before taking himself out of the running, and most recently worked in finance - enabling him to quickly build a multimillion-dollar war chest, the largest of all the candidates in the race.
Garry McCarthy, the former Chicago police superintendent who was fired by Emanuel during the fallout after the fatal shooting of Laquan McDonald. The Bronx native was a New York City police officer from 1981 to 2006, spending the last six years as deputy commissioner for operations before he was hired to lead the police department in Newark, New Jersey. Emanuel then brought him to Chicago in 2011, where he was CPD superintendent until Emanuel asked for his resignation in 2015, days after video was released showing then-Officer Jason Van Dyke shooting 17-year-old McDonald 16 times. A self-described "conservative Democrat," McCarthy currently works in consulting.
Gery Chico, an attorney who was former Mayor Richard M. Daley's chief of staff as well as board president of Chicago Public Schools. Chico unsuccessfully ran for U.S. Senate in 2004, then served as president of the Chicago Park District and chairman of the City Colleges of Chicago board before running for mayor in 2011. Chico came in second of six candidates, earning 24 percent of the vote, behind Emanuel's 55 percent. In a statement announcing his run this time around, Chicago said he will focus on "violence, education, jobs and economic development."
Susana Mendoza, who officially announced her campaign eight days after she was re-elected to a second term as Illinois Comptroller. She insisted for weeks prior that she was focused on the midterms - even after a portion of her announcement video was leaked. She had long been rumored to be considering a run for mayor, with supporters circulating petitions in the months before her announcement. Mendoza previously served as an Illinois state representative from 2000 to 2011, then as Chicago city clerk through 2016 when she was elected comptroller.
Amara Enyia, an attorney and community activist who also ran for mayor in 2015. She exited that race to back then-Ald. Bob Fioretti's unsuccessful bid. With a doctorate in education policy, she has worked as a public policy advisor in various capacities, and is currently the director of the Austin Chamber of Commerce. Perhaps her most notable campaign moment came when she nabbed the endorsement of Chicago's Chance the Rapper, who also donated $400,000 to keep her campaign afloat.
La Shawn Ford, an Illinois state representative who has represented portions of the city's West Side since 2007. He is a licensed real estate broker and insurance agent, according to his biography on the General Assembly's website. He ran unopposed for re-election to the 8th House District, winning a sixth term in the post he hopes to abandon should his run for mayor be successful.
Neal Sáles-Griffin, a tech entrepreneur who is currently the CEO of Code Now, a nonprofit that teaches low-income students how to code. Sáles-Griffin also teaches at Northwestern University and the University of Chicago, and serves on the board of directors for several nonprofit organizations.
Lori Lightfoot, the former Chicago Police Board president. Emanuel appointed Lightfoot to head the board in 2015, and to chair the Police Accountability Task Force in 2016, in the wake of the McDonald shooting. A former federal prosecutor from 1996 to 2002, Lightfoot has also held various roles in city government, including as chief of staff for Chicago's Office of Emergency Management and Communications in 2005. She most recently was a partner at Mayer Brown LLP and entered the race before Emanuel dropped out - criticizing the candidates who launched their bids after his announcement.
Bob Fioretti, a former alderman who also ran for mayor in 2015. He represented the city's 2nd Ward from 2007 to 2015, when the redistricted map pushed him outside the ward's boundaries. He then decided to run for mayor instead, but eventually dropped out and endorsed Emanuel's re-election bid ahead of the runoff vote against Jesus "Chuy" Garcia. Later that year, Fioretti launched an unsuccessful campaign for state Senate in the 5th District. Most recently, Fioretti made an unsuccessful bid for Cook County Board President against Preckwinkle in 2018.
John Kozlar, an attorney who is currently part of the risk solutions team at Aon plc. He unsuccessfully ran for 11th Ward alderman at age 21, then mounted another bid for the same position in 2015, forcing a run-off against Patrick Daley Thompson, a member of the powerful Daley family who ultimately won. Kozlar is last of all the candidates when it comes to fundraising, with just over $1,000 on hand.
[[505996081, LG]]
TREASURER
Chicago Treasurer Kurt Summers, often seen as a rising political star, unexpectedly announced in 2018 that he would not seek re-election. Summers was Cook County Board President Toni Preckwinkle's ex-chief of staff and served just one term.
Three candidates are hoping to take his place as what could be seen as the city's accountant, managing Chicago's operating funds, controlling the city's investments and overseeing the city's increasingly-troubled pension funds. The candidates include, in order of their appearance on the ballot: Melissa Conyears-Ervin (right), Ameya Pawar (left) and Peter Gariepy (center).
Conyears-Ervin is currently an Illinois state representative, serving the 10th District since 2017. She has a master's degree in business administration from Roosevelt University and has garnered some key endorsements, from the likes of SEIU Local 73, the Chicago Teachers Union, and Illinois Secretary of State Jesse White.
Ameya Pawar is currently the 47th Ward alderman, running for a new office after vowing to only serve two terms on City Council. He ran on a progressive platform for Illinois governor last year, but dropped out of the Democratic primary early on, citing a prohibitive lack of funding. He's floated the idea of creating a publicly-owned bank, which would aim to provide low-interest loans for residents and would essentially cut private banks out of the business of handling the city's finances. His progressive approach to ethics and transparency in particular has earned him the endorsements of both the Chicago Tribune and the Chicago Sun-Times, as well as SEIU Local 1 and Rep. Mike Quigley.
Accountant Peter Gariepy, who unsuccessfully tried to unseat Cook County Treasurer Maria Pappas last year, is also running. His campaign is largely self-financed, after he loaned himself just under $40,000 last quarter.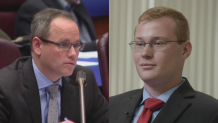 13TH WARD
Chicago's 13th Ward has a David and Goliath-style battle playing out, as DePaul University freshman David Krupa (left) hopes to topple Ald. Marty Quinn (right). The recent Fenwick High School grad and part-time FedEx forklift operator cashed in savings bonds and used graduation gift money to open a campaign office. But he's not taking on just any alderman - he's got his sights set on powerful House Speaker Mike Madigan's hand-picked alderman. Quinn is perhaps Madigan's most senior political operative and has represented the 13th Ward on the city's Southwest Side since 2011.
In early 2018, a series of allegations of sexual harassment against various aides rocked Madigan's organization, the first of which was against Marty Quinn's brother Kevin Quinn. Alaina Hampton, a political consultant who also previously worked for Madigan, accused Kevin Quinn in February of making multiple unsolicited advances and sending her dozens of inappropriate text messages. Kevin Quinn, who Hampton said was her supervisor at the time, was fired the day before she went public with her allegations. She claimed that when she had previously told Marty Quinn and Madigan of the alleged harassment, they both attempted to sweep her complaint under the rug and refused to hire her for a campaign in retaliation.
Kevin Quinn, Marty Quinn and Madigan - the country's longest-serving statehouse speaker and the chair of the Democratic Party of Illinois - all denied the allegations and Hampton filed a lawsuit against DPI and Madigan's political organization the following month. It was those allegations in part that prompted 19-year-old Krupa to make his first run for office - one in which he has also filed a lawsuit against Marty Quinn, his political committee, Madigan and the 13th Ward Democratic Organization that Madigan controls as the ward's Democratic committeeman.
That lawsuit is over Quinn's efforts to knock Krupa off the ballot. Krupa filed roughly 1,700 petition signatures to run, only needing 473. To get him off the ballot, Quinn's campaign filed more than 2,700 affidavits from residents claiming to revoke their signatures on Krupa's petitions - 1,000 more affidavits than signatures Krupa even collected. Krupa's campaign alleged that this constituted fraudulent behavior, and Quinn ultimately dropped his petition challenge. Still, Krupa filed his lawsuit accusing Quinn and Madigan of a "deprivation of his civil rights."
Having pulled in roughly $12,000 in campaign contributions and in-kind donations, with more than $5,600 of that coming from his own pockets, Krupa doesn't quite have the cash to stack up to Quinn. A prolific fundraiser, Madigan has dumped $200,000 cash from the 13th Ward Democratic Organization's coffers into Quinn's campaign, in three installments since December. He's also covered thousands of dollars in Quinn's campaign payroll with his Friends of Michael J. Madigan committee, state Board of Elections records show.
While that amount of money seems primed to overwhelm Quinn's rather unlikely opponent, the race remains one to watch if only to see just how power in Illinois is preserved.
14TH WARD
The longest-serving alderman in Chicago history faces his toughest electoral battle yet. Ald. Ed Burke (center) is running for a 13th term representing the city's 14th Ward, despite being charged with attempted extortion for "corruptly soliciting business" for his law firm, federal authorities allege. Burke was indicted on Jan. 3, weeks after federal agents conducted raids at his 14th Ward office and his finance committee suite on Nov. 29, and then again at City Hall on Dec. 13.
The unsealed complaint revealed that authorities claim Burke was using his official position in an attempt to stymie renovations on a restaurant in his 14th Ward – later identified as the Burger King near the scene of the high-profile police shooting of Laquan McDonald – in an alleged effort to direct the company's business to his own law firm for personal gain.Burke runs a law firm specializing in property tax appeals, and had previously worked for President Donald Trump on lowering taxes for his namesake Chicago tower. His firm, Klafter & Burke, stopped representing Trump earlier this year. Burke, who first took office in 1969, has previously been subject to scrutiny over potential conflicts of interest, as well as federal investigations over allegations of ghost payrolling. With regard to the January charge of corruption, as he has in the past, Burke has repeatedly denied all allegations of wrongdoing.
He faces two opponents in the predominantly Hispanic ward: Jaime Guzman (right) and Tanya Patino (left), who both have ties to Rep. Jesus "Chuy" Garcia. Guzman was a legislative analyst for Garcia when the congressman was a Cook County commissioner and has since worked at the Pilsen Law Center. Patino is a civil engineer and nabbed the endorsement of Garcia - who called for special monitors for the 14th Ward election, claiming that Burke flouted rules against electioneering at a polling place back in November.
Burke has long been arguably the most powerful alderman in the city, as chair of the Chicago City Council Committee on Finance, though he resigned from that position after he was indicted. Still, he is far and away the most prolific fundraiser on City Council, with more than $12.2 million in his war chest, across three campaign committees, as of the most recent reporting period ending on Dec. 31. Will that cash be enough to topple both his opponents? With three candidates, it will certainly be more difficult, but not impossible, for any one of them to reach the 50 percent needed to win outright without forcing an April runoff.
20TH WARD
The campaign to be Chicago's 20th Ward Alderman is wide open, with no incumbent in a race that's tied for the highest number of candidates at nine, all vying to replace Ald. Willie Cochran, who was indicted on federal criminal charges in December 2016. The candidates include: Jeanette B. Taylor, Nicole J. Johnson, Maya Hodari, Jennifer O. Maddox, Andre Smith, Dernard D. Newell, Quandra V. Speights, Kevin M. Bailey and Anthony Driver, Jr.
Taylor led a hunger strike to protest the closing of Dyett High School and is a strong proponent of a Community Benefits Agreement for the Obama Presidential Center. Johnson is an education consultant and has worked, among other roles, as a policy and program manager at Chicago Votes.
Hodari is the former director of development at the Chicago Housing Authority and a founding member of the Woodlawn Neighbors Association.
Maddox is a Chicago police officer, currently working in the department's Office of Community Affairs, and the founder of a non-profit organization focused on after-school and summer programs for children.
Smith is the founder and CEO of Chicago Against Violence and previously ran for alderman in 2010.
Newell has worked as an assistant state's attorney for the Cook County state's attorney's office, as well as an investigator for the Independent Police Review Authority and the Civilian Office of Police Accountability.
Speights is an attorney and NAACP member, as well as a member of the board of directors of SheVotes Illinois.
Bailey is a civil engineer by degree, works at IBM and is the 20th Ward Democratic committeeman who ran against Cochran in 2015, forcing him to a run-off in which Bailey earned 45 percent of the vote.
Driver has a background in policy, has previously worked for the Chicago Mayor's Office of Public Engagement and is an advocate against gun violence after losing two friends in shootings.
Cochran was charged with a total of 11 counts of wire fraud, two counts of federal program bribery and two counts of extortion, authorities said. Authorities allege Cochran, a former Chicago police officer, used money from a charitable fund in part to pay for his daughter's college tuition and roughly $25,000 on gambling at casinos. He was also accused of soliciting a bribe from a liquor store owner in exchange for the passage of an ordinance allowing liquor sales in the store's two-block area, plus the solicitation of a bribe from an attorney representing real estate developers with properties in the ward.
Cochran originally entered a plea of not guilty in 2016, then rejected a plea deal in 2018, setting the stage for a trial this summer. He announced in 2017 that he would not run again, though he said his decision had nothing to do with his indictment. Cochran is the third 20th Ward alderman to face charges, with two of his predecessors - Cliff Kelley and Arenda Troutman - imprisoned for fraud. The ward includes parts of the Woodlawn, Back of the Yards, Canaryville, Washington Park and Englewood neighborhoods on the city's South Side.
22ND WARD
The 22nd Ward will soon have its first new alderman in more than 25 years. Ald. Ricardo Munoz announced in July that he would not seek re-election after serving since his appointment to the office in 1993, when he replaced now-Rep. Jesus "Chuy" Garcia after his departure for the Illinois Senate. The race to replace Munoz - in which four candidates are vying to take over - is one of several across the city in which Garcia is involved.
The chosen candidate of both Garcia and Munoz is Michael Rodriguez (left), the 22nd Ward Democratic commiteeman. Rodriguez is the executive officer of the Cook County medical examiner's office and previously worked as director of Enlace Chicago, a nonprofit organization aimed at violence prevention.
A former challenger to Munoz is running as well. Neftalie Gonzalez (second from left) is a former Chicago police officer who founded nonprofit organization OpportUnity‐OportUnidad, focused on employment opportunities. Gonzalez ran against Munoz in both 2011 and 2015, earning 36 percent and then 13 percent of the vote, respectively.
Lisette "Liz" Lopez (right) is an outreach director for Oak Street Health, a health clinic for seniors on Medicare. She previously worked for the Illinois Department of Human Services and the Women Infant and Children program and founded Imago Dei, a young violence prevention program.
Richard Juarez (second from right) is currently the director of long-term services and support at Lawndale Christian Health Center, a nonprofit health organization.
All four, including his chosen successor, have called on Munoz to step down before the end of his term, after the longtime alderman was charged with domestic battery for an alleged attack on his wife on New Year's Eve. Munoz, who has been open about his past gang ties and battle with alcoholism, checked into an Indiana rehabilitation facility in January but has said he has no intention of resigning. The Southwest Side ward includes parts of the Little Village, South Lawndale and Archer Heights neighborhoods.
[[505996561, LG]]
25TH WARD
The race to represent Chicago's 25th Ward changed drastically after Ald. Danny Solis announced in November that he would not seek reelection - leaving the field wide open for five candidates seeking to replace him. They include, in order of their appearance on the ballot: Hilario Dominguez, Alexander "Alex" Acevedo, Troy Antonio Hernandez, Byron Sigcho-Lopez and Aida Flores.
Dominguez (center) is a former special education teacher and community organizer who has worked on issues of housing and volunteered for candidates including Rep. Jesus "Chuy" Garcia, who has endorsed him.
Acevedo (second from right) is a former registered nurse who currently works as a community relations manager at Oak Street Health, a clinic for senior citizens. He is the son of former state Rep. Eddie Acevedo and unsuccessfully ran for his father's seat in 2016.
Hernandez (second from left) is a data scientist who works for IBM and volunteers as director of the Pilsen Environmental Rights and Reform Organization. He unsuccessfully attempted to run against Solis in 2015 but did not make the ballot.
Sigcho-Lopez (left) is an educator and public policy researcher at the University of Illinois-Chicago, as well as the director of the Pilsen Alliance, an organization focused on social justice for working class and immigrant communities on the Lower West Side. Sigcho-Lopez was one of four candidates who challenged Solis in 2015, coming in second with 19 percent of the vote - falling about 80 votes short of forcing Solis into a run-off election.
Flores (right) is a former Chicago Public Schools teacher and principal who currently works as a management consultant.
Solis has represented the ward since he was appointed in 1996, meaning this election will mark the first time in nearly a quarter-century that the 25th Ward will have a new voice on City Council. Each of the candidates are about half the age of 70-year-old Solis, meaning that no matter who wins, the 25th Ward will, for the first time, be represented by a millennial.
Solis has gone silent since late January, when the Chicago Sun-Times reported that he secretly recorded conversations with embattled Ald. Ed Burke as part of a criminal investigation that resulted in a charge of attempted extortion against Burke on Jan. 3. Solis himself became the subject of a federal criminal investigation in 2014, according to a source familiar with the probe, which is why Solis cooperated in the investigation into Burke. No charges have been filed against Solis, who resigned from his position as chair of the powerful City Council Committee on Zoning, Landmarks and Building Standards, which votes on where developers can build multi-million to multi-billion dollar projects across the city.
Solis has been a major flash-point in the race, as candidates for the 25th Ward - which includes parts of the Lower West Side, Pilsen, Greek Town, Chinatown and University Village neighborhoods - have attempted to distance themselves from him and paint themselves as reformers.
[[505996581, LG]]
30TH WARD
The 30th Ward race is one that has pitted two longtime allies of outgoing Mayor Rahm Emanuel against one another, as incumbent Ald. Ariel Reboyras (center) hopes to defend his spot against a challenge from former Rep. Luis Gutierrez's daughter Jessica.
Reboyras chairs the City Council Committee on Public Safety, which oversees the Chicago Police Department, and has backed Emanuel's agenda items on multiple occasions, including police reform. Emanuel offered Reboyras his support at a fundraiser in September, according to a video Reboyras posted on his Facebook page, in which Emanuel gives Reboyras credit for bringing a new elementary school to the Belmont-Cragin neighborhood. Reboyras, who was first elected in 2003, has also earned the endorsements of the Chicago Tribune and the Chicago Sun-Times.
His main challenger is Jessica Gutierrez (right), daughter of former Rep. Luis Gutierrez, another Emanuel ally who chaired the mayor's re-election campaign in 2015. Luis Gutierrez announced in 2017 that he would not seek re-election the following year, engineering the victory of his chosen successor, now-Rep. Jesus "Chuy" Garcia - who was Emanuel's mayoral opponent in 2015 . Jessica Gutierrez most recently worked as a field director on Garcia's Democratic primary campaign for her father's Congressional seat. She's running to Reboyras' left, with the Chicago Teachers Union's endorsement, a vow to join the Progressive Caucus, and hope that Emanuel's support will prove detrimental to Reboyras.
Also running is Edgar "Edek" Esparza (left), a 22-year-old college student who also attempted to run against Reboyras in 2015 but did not make the ballot.
The 30th Ward includes parts of the Belmont-Cragin, Portage Park and Irving Park neighborhoods on Chicago's Northwest Side.
[[505996631, LG]]
33RD WARD
In 2015, Ald. Deb Mell (right) ran for the first time to defend her appointment to her father's old seat. She avoided a runoff election by 17 votes, the slimmest of leads that materialized thanks to absentee ballots counted after Election Day. This time around, she faces perhaps an even tougher challenge from a Democratic Socialist that the Chicago Reader said could be "the next Alexandria Ocasio-Cortez."
The woman drawing that comparison is Rossana Rodriguez (center), a Puerto Rican activist who currently works as an internship and career advisor for theater and dance at Columbia College. When Mell's last opponent Tim Meegan, a member of the Chicago Teachers Union, lost in 2015, the remnants of his campaign operation - including Rodriguez, a founding member - turned into the 33rd Ward Working Families independent political organization. That organization is, in part, what's propelled Rodriguez's campaign, plus the backing of unions like CTU and SEIU.
Mell's father Dick Mell was once the Northwest Side kingmaker, as 33rd Ward alderman beginning in 1975, the ward's Democratic committeeman starting the following year and the father-in-law of disgraced Gov. Rod Blagojevich. After 38 years, Dick Mell resigned as alderman in 2013, and Mayor Rahm Emanuel appointed his daughter - then a state representative in her third term - to fill his seat. He lost his position as the ward's Democratic committeeman in 2016, meaning this time around, he won't be able to give his successor as big of a boost.
This time, Deb Mell earned the endorsement of the Chicago Sun-Times, pointing to her upgrades to parks in the ward and her "more progressive-leaning voice" on the City Council. Also in the mix is Chicago Tribune-endorsed Katie Sieracki (left), managing director of a conference organizing company.
Seemingly the most important issue in the 33rd Ward - which includes parts of the Albany Park, Irving Park, Avondale and Ravenswood Manor neighborhoods - is affordable housing.
[[505996641, LG]]
44TH WARD
The race in Chicago's 44th Ward has shaped up to be a battle between Lake View's longtime alderman and the Chicago Cubs. The Cubs-owning Ricketts family has been vocal in their frustrations with Ald. Tom Tunney (center), Chicago's first openly gay alderman who has served since his appointment in 2002. The 44th Ward includes Wrigley Field and the surrounding area - often putting the Ricketts at odds with Tunney over night games, parking, zoning and various projects as the family continues to aggressively buy up and redevelop areas around the stadium.
Late last summer, anti-Tunney mailers began to pop up in the ward, paid for by a group called "Neighbors for a Better Lakeview," which Crain's reported was financially supported by the Ricketts.
Tunney is facing a challenge from two opponents: Austin Baidas (right) and Elizabeth Shydlowski (left).
Baidas previously worked in finance and as the associate director for Gov. Pat Quinn's Office of Management and Budget. He also worked as an adviser in the U.S. Department of Transportation under former President Barack Obama, and was a relatively prolific political donor prior to his own campaign, into which he's dumped $200,000 of his own money. Baidas also conceded to Crain's that he has long been friends with Laura Ricketts and consulted with her before jumping into the race.
Shydlowski is a business and nonprofit consultant who has previously worked in government and politics for both Democrats and Republicans, most recently as an administrator for the Illinois Department of Healthcare and Family Services under former Gov. Bruce Rauner. She's not nearly as well-funded as Tunney or Baidas, though most of her contributions have come from Cubs-connected donors - including $10,000 from Tom Ricketts and $5,000 from Todd Ricketts' wife.
Tunney nabbed the endorsements of both the Chicago Tribune and the Chicago Sun-Times, both citing his pushback on the Cubs as a good thing for the area - but the race will be one to watch to see how far the billionaire Ricketts family's influence can reach.
[[505996691, LG]]
47TH WARD
The North Side's 47th Ward - Mayor Rahm Emanuel's home turf - has no incumbent running this time and is tied for the most candidates in the race. Nine people are vying to replace outgoing Ald. Ameya Pawar, who's making good on his vow to only serve two terms and is now running for treasurer instead.
The candidates include, in order of their appearance on the ballot: social worker Eileen Dordek, Chicago Public Schools teacher Angela "Angie" Maloney, Cubs lobbyist Heather Way Kitzes, attorney and ex-staffer for former President Barack Obama and Mayor Rahm Emanuel Michael A. Negron, civil rights lawyer at the Illinois attorney general's office Matt Martin, restaurant owner Gus Katsafaros, firefighter Thomas M. Schwartzers, physician Kimball Ladien and nonprofit organization Midnight Circus in the Parks' founder Jeff Jenkins.
With so many candidates, many of whom are well-connected, this race could just end up being the most expensive in the city - and will likely head to a runoff. The 47th Ward includes parts of the Ravenswood and North Center neighborhoods on the city's North Side.
49TH WARD
The race for the 49th Ward is a battle that gets to the very heart of progressivism in Chicago.
Ald. Joe Moore (left) has represented the ward, encompassing the Rogers Park neighborhood on the city's North Side, since he claimed victory over former Mayor Richard M. Daley's appointed alderman in 1991. Under Daley, Moore flexed his progressive muscle - fighting for a living wage ordinance and implementing the first participatory budgeting program in the country. But critics now say he's grown too close to Mayor Rahm Emanuel to still call himself a progressive.
Enter Maria Hadden (right), an activist who boasts her previous experience as a board member of The Participatory Budgeting Project, as well as her current work as the founder and director of Our City Our Voice, a nonprofit aimed at increasing democratic participation. Hadden is also on the board of directors for the Black Youth Project 100, an organization focused on racial justice. She's nabbed some big endorsements from the Chicago Teachers Union, SEIU and Rep. Jesus "Chuy" Garcia, among others.
As with several other wards, the number one issue here is affordable housing - perhaps even more so, as Moore chairs the City Council Committee on Housing and Real Estate. With just two candidates, this one won't go to a runoff. Moore has beaten his opponents outright since a 2007 runoff, but now it's winner-take-all with no chance for a do-over.