A pair of demonstrations to protest what activists say are systematic racist actions by police officers kicked off Friday in Chicago.
A small group of protesters gathered at about 8 a.m. at the intersection of North Milwaukee and North Ashland Avenues at West Division Street.
The group was made up of parents and children, some as young as 7 years old.
"We've been trying to explain to them what's going on," said protester Craig Boyd.
The parents said they brought their children, who go to the Near North Montessori School, to teach them a lesson about peaceful protests and racial equality.
"We wanted to come out, bring our kids, put the message out," said protester Sarah Ryan. "This isn't the world we want for them."
A second gathering began Friday afternoon near South State Street and Jackson Boulevard in the Loop.
Dozens of protesters started marching around the Loop, traveling down Clark, Congress and Dearborn before stopping in front of the Chicago Public Schools headquarters then heading east on Monroe. It was not immediately clear where they were going.
One person was arrested from the scene after leaving the sidewalk.
Hundreds of demonstrators marched in the Loop and stopped traffic on Lake Shore Drive and the Dan Ryan Expressway on Thursday to protesting a grand jury's decision not to indict a New York City police officer in the chokehold death of Eric Garner.
Those marches followed "die-ins" at the University of Chicago and at East Roosevelt Road and South Wabash Avenue. Demonstrators chanted "We can't breathe" and "Hands up, don't shoot," slogans which have been rallying cries in protest of recent events in New York City and Ferguson, Missouri, respectively.
Others held signs reading with messages like "Black lives matter" and "Once again injustice."
Protesters Briefly Shut Down SB Dan Ryan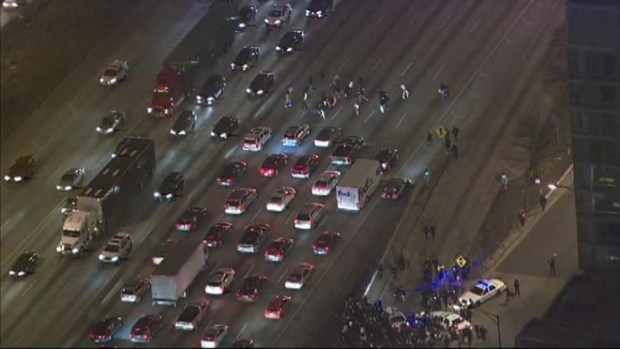 The civil unrest comes after a pair of grand jury decisions in as many weeks to not indict white police officers in connection with the deaths of unarmed black men. In New York City, Eric Garner died after being placed in a chokehold by an NYPD officer. He's heard on video of the incident telling the officers that he was having difficulty breathing. In August, 18-year-old Michael Brown died after being shot by Ferguson, Missouri police officer Darren Wilson.
In another New York case last month, a man named Akai Gurley died after being shot by an NYPD officer in the stairwell of a dark Brooklyn housing project. And in Phoenix, a father named Rumain Brisbon died earlier this week after being shot by a police officer. He was unarmed, a Phoenix attorney told The Arizona Republic. Protesters marched to police headquarters in that city to demand the release of the identity of the officer involved.
U of C Protests Over NY Grand Jury