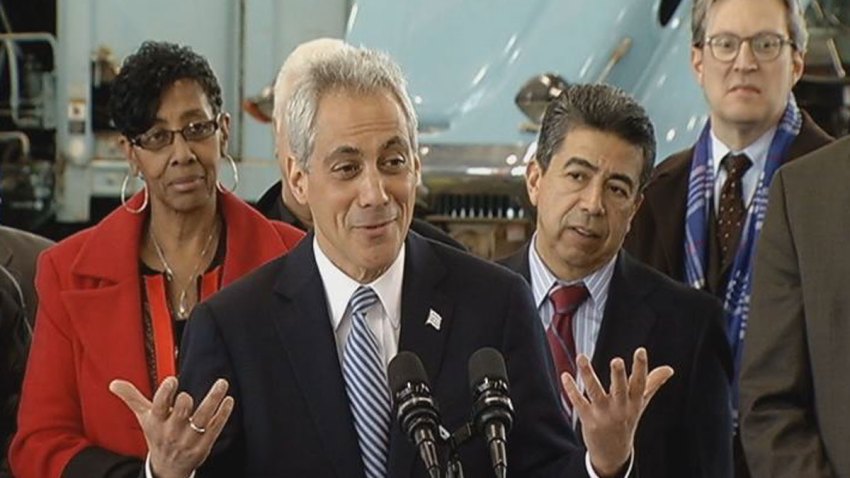 It's not me -- it's the economy, says Chicago Mayor Rahm Emanuel, responding to a bleak Chicago Tribune report on his downward spiraling job approval rating.
"There's tremendous economic stress in people's lives, which is why I've pushed for the minimum wage, which is why I've pushed for policies to make sure our small businesses have a fair chance and an equal chance with big companies," Emanuel told reporters yesterday.
"You have to have a set of policies in place — from pre-K to community colleges to playgrounds to parks to after-school activities — to give everybody a chance to not just look at the gains, but know that they have a future in those gains," he continued, adding: "We're not where we need to be. We're not repeating the mistakes that got us into the problems. But we're not at the pace or place we need to be where everybody's feeling an opportunity that they have a chance at a middle-class job."
The Tribune polled Chicago voters and found growing dissatisfaction with how the incumbent Democrat -- who's up for relection this February -- is dealing with the city's myriad problems including financial woes, rampant crime and a crumbling public education system. According to the Trib, Emanuel's job approval rating slipped from 50 percent around this time last year to a current low of 35 percent.
A majority of disillusioned survey-takers said that if the election were today, they'd vote for Karen Lewis, the feisty Chicago Teachers Union leader, who's seriously considering a run for mayor. She grabbed 43 percent of the vote, while Emanuel took 39 percent. Fourteen percent were undecided.
"I've worked for two presidents and seen a lot of polls," said Emanuel when asked whether he's worried about the numbers. "There will be a time when polls matter. But six months out, five months out, we have another election before my election, and I am not going to put my personal political fortunes ahead of the fortunes of the families of the city of Chicago."