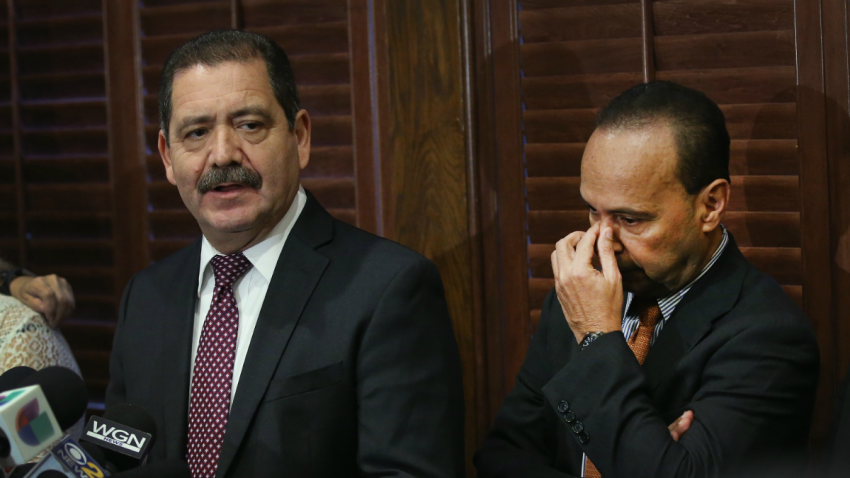 As expected, Jesus 'Chuy' Garcia won the race to represent Illinois' 4th Congressional District, NBC News projected.
Garcia won 86.5 percent of the vote with 97.6 percent of precincts reporting by 8:16 p.m., cruising to victory over Republican Mark Wayne Lorch, who took home 13.5 percent.
The results in the strongly Democratic district were all but decided even before the first ballots were cast, but the race remains important to note in understanding Chicago's political landscape.
In November, Rep. Luis Gutierrez revealed he would not seek re-election at the end of his 13th term in office. That surprise announcement stunned the city and set off a flurry of speculation, with candidates scrambling to get enough signatures to appear on the ballot before the petition filing deadline less than one week later.
One person who wasn't caught off guard by the announcement was Garcia, a Cook County Commissioner who appeared with Gutierrez at the news conference announcing the outgoing legislator's retirement.
That day, Gutierrez endorsed Garcia, a longtime friend and ally, as his chosen successor - a move that appeared to some as a classic backroom deal emblematic of the "Chicago way."
Garcia forced Chicago Mayor Rahm Emanuel into an historic runoff election in 2015, and although he was unsuccessful in that effort, he was widely seen as a mayoral contender once again in 2019 - leaving some to speculate Emanuel may have in some capacity brokered a deal to get Garcia onto a different ballot.
But eight months later, when Emanuel himself announced that he too would not be running for re-election, both Gutierrez and Garcia weighed a mayoral campaign before deciding against it.
All that aside, come January, the majority-Hispanic 4th District will have a new representative for the first time since 1993, and Gutierrez will no longer be the longest-serving member of Illinois' Congressional delegation - historic in and of itself.
Garcia will likely model his time in Congress after Gutierrez, who has been among the most outspoken immigration advocates and critics of President Donald Trump.