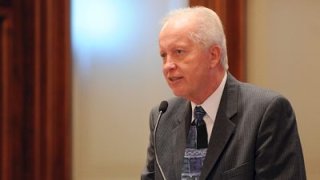 Longtime Illinois Sen. Terry Link has been charged with felony income tax fraud, court records show, becoming the latest lawmaker ensnared in a sprawling federal corruption probe.
Prosecutors allege that in October 2017, Link underreported his income on his federal tax return for the previous year, according to charging documents filed Thursday in U.S. District Court for the Northern District of Illinois.
Link reported on his Form 1040 that his total income for 2016 was $264,450, prosecutors allege, saying he "knew that the total income substantially exceeded that amount."
Link, a 73-year-old Democrat from Waukegan, has served in the Illinois Senate since 1997, representing the 30th District in Chicago's northern suburbs. Neither Link nor his attorney immediately responded to requests for comment.
Illinois Senate President Don Harmon accepted Link's resignation as a member of the Legislative Ethics Commission Thursday afternoon, a spokesman for Harmon confirmed.
Thursday's filing makes Link the latest Illinois politician to be charged in a widespread criminal corruption probe in the state. He is the third Democratic Illinois senator to face federal charges in just over a year.
In January, former Illinois Sen. Martin Sandoval pleaded guilty to bribery and tax charges after striking a deal with prosecutors in exchange for his cooperation. Sandoval admitted in his plea deal that he solicited and accepted more than $250,000 in bribes to block legislation harmful to a Chicago-area red-light camera company and under-reported his income from 2012 to 2017.
In August 2019, state Sen. Tom Cullerton was charged with 40 counts of embezzlement, alleging he took more than $270,000 in salary, health benefits and more as an organizer for a Teamsters labor union, even though he "did little or no work" for the union. He has pleaded not guilty to all charges.
Last month, prosecutors filed a deferred prosecution agreement with ComEd in which the utility giant agreed to pay a $200 million fine and make several changes in order to resolve a bribery charge. The company admitted to arranging jobs and payments for associates of an elected official, identified in court documents only as "Public Official A," for nearly a decade to curry favor with that official and pass legislation favorable to ComEd.
That court filing identifies "Public Official A" as "Speaker of the Illinois House and the longest serving member of the House of Representatives," a description that fits only Speaker Michael Madigan. Madigan has not been charged with any criminal wrongdoing.
Link's indictment came the same day a coalition of 16 Democratic lawmakers proposed a package of ethics reforms in response to the allegations of wrongdoing and corruption that have surfaced as part of the ongoing federal probe.
Their proposals include prohibiting sitting legislators from lobbying any other units of government, establishing a one-year prohibition on lobbying for legislators after leaving office and expanding requirements for lawmakers to disclose their sources of outside income, among other changes.
The group of lawmakers also proposed term limits on leadership positions in the House and Senate, calling for their reforms to be taken up during the legislature's upcoming veto session.