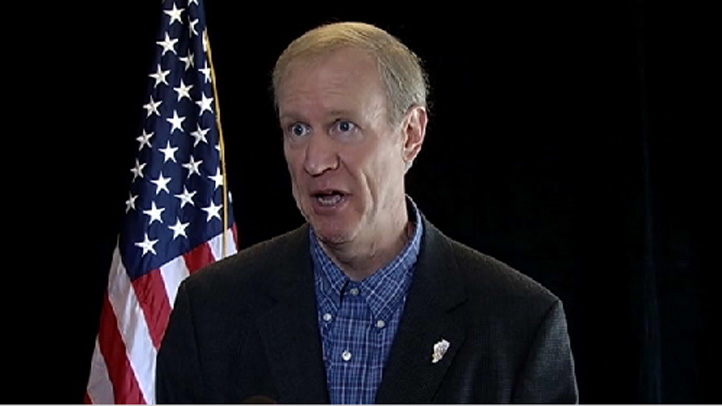 It wasn't a lazy Sunday for Bruce Rauner.
Pointing fingers at Springfield, the fired-up Republican governor candidate called a Chicago press conference to premiere an attack ad accusing Illinois Democrats of sabotaging his go-nowhere campaign to get a term limit question on the November ballot.
"Illinois is suffering so badly under our career politicians with massive corruption and massive failure to improve the quality of life for the families of our state," the veteran venture capitalist told reporters, making reference to Quinn's double dose of PR disasters involving the botched Neighborhood Recovery Initiative and allegedly improper hiring practices inside the Department of Transportation.
Rauner addressed weekend reports that the feds subpoenaed emails from Quinn's ex-Chief of Staff Jack Lavin as part of a investigation into the NRI, saying "This goes right to the heart of Quinn's administration. ... You can't get any more close to Pat Quinn personally that Jack Lavin."
(Striking back, Quinn dismissed Rauner as lacking credibility. The GOP nominee has plenty of skeletons in his own closet, stemming from his not-so-distant past as founding partner at Chicago private equity firm GTCR.)
The Winnetka-based businessman had lobbied hard for the referendum, which would crowd-source voters' opinions on limiting lawmakers' tenures to eight years in office. But he suffered a setback last week when the state Supreme Court rejected his request to appeal a previous ruling that sided with Democratic House Speaker Michael Madigan to block the query from the ballot.
"A half million people signed petitions to put erm limits on the ballot. Illinois voters overwhelmingly support term limits: Democrats, Republicans and Independents," says Rauner, taking swipes at his Democratic foes in the newly minted attack spot. "But Pat Quinn, Mike Madigan and the Springfield crowd don't care what you think. They'll say or do anything to keep power. They let term limits get kicked off the ballot, but come November, it's our turn to kick them out of office."