Voting in the 2020 general election has already begun, with the coronavirus pandemic prompting millions across Illinois and the U.S. to vote by mail or cast their ballots early, ahead of Election Day on Nov. 3.
There are countless races up and down the ballot in Illinois with fascinating and important narratives, some garnering national attention in a contentious and high-stakes election cycle.
Here's a look at nine of the biggest races you should be watching in the Chicago area and across Illinois this election:
Presidential Race in Illinois May Mirror National Trends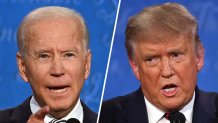 The biggest race this election cycle is without a doubt the one at the top of the ballot. President Donald Trump is running for a second term against Democratic nominee Joe Biden in an election unlike any other.
This year has already included Trump's impeachment, the deadly coronavirus pandemic, a renewed civil rights movement and the death of a Supreme Court justice – all issues that are shaping the campaign.
While we don't know who will be president come January 2021, we do know with some certainty how Illinois will vote. Illinois has not voted for a Republican presidential candidate since 1988 when the state gave George H.W. Bush a narrow 2-point margin of victory.
Having backed the Democrat in the last seven presidential races, Illinois is all but certain to vote for Biden, who most recently served as vice president to Illinois' own former President Barack Obama.
But it's useful to look back at the history of presidential elections in Chicago and across the state to see how the political reordering of Illinois is a fascinating microcosm of the overall realignment happening across the U.S.
Read more about the race for president in Illinois here.
Sen. Dick Durbin Seeks 5th Term Against 4 Opponents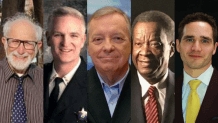 The only statewide race happening in Illinois this election cycle is for U.S. Senate. Sen. Dick Durbin, a Democrat from Springfield, is running for reelection, seeking a fifth term in the office he first won in 1996.
Durbin, 75, is heavily favored to win, having won reelection each time by double-digit margins of victory each time he's run – between 10 points (in 2014) and nearly 40 points (in 2008). He's an attorney who served seven terms in the U.S. House before running for Senate.
While Illinoisans may know him as the state's senior U.S. senator, Durbin plays a major role on the national stage as well. He serves as the Democratic Whip in the Senate, the party's second in command in the chamber who's tasked with rounding up votes, a role he's held since 2005 – and could grow in prominence should Democrats take back the majority in the Senate this election.
This cycle, he faces four opponents: Republican Mark Curran, Willie Wilson, Danny Malouf and David Black.
Read more about each of the candidates and the entire Senate race here.
2 GOP Candidates Who Promoted QAnon Conspiracy Theory Run for Congress in Illinois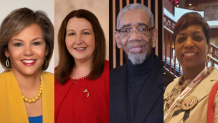 Illinois' 1st and 2nd Congressional Districts aren't races to watch because they will be close or even contentious – far from it. Both districts, encompassing portions of Chicago's South Side as well as the south and southwest suburbs, are Democratic strongholds that are virtually guaranteed to send incumbent Reps. Bobby Rush and Robin Kelly, respectively, back to Washington.
But these races should be on your radar because Rush's and Kelly's Republican challengers have both promoted QAnon, the baseless and dangerous conspiracy theory alleging without evidence that President Donald Trump is secretly battling a cabal of Satan-worshipping pedophiles who control government, the media and Hollywood while running a global child sex-trafficking ring and drinking the blood of children.
Read more about both candidates and how QAnon made its way to Chicago here.
Marie Newman, Mike Fricilone Running to Be 3rd District's First Non-Lipinski Representative in Decades
After a high-profile rematch in this year's Democratic primary, Illinois' 3rd District will soon, for the first time in nearly three decades, be represented by someone whose last name isn't Lipinski.
Democrat Marie Newman is likely to cruise to victory over Republican Mike Fricilone in the district, which includes Chicago's Southwest Side and surrounding suburbs, after Newman defeated eight-term incumbent Rep. Dan Lipinski in a dramatic March primary battle that garnered national attention.
Now, she's all but guaranteed a victory in the Democratic stronghold over Fricilone, who is the executive sales director of an office furniture dealer and a member of the Will County Board since 2012.
Read more about both candidates, the bruising primary battles on both sides, as well as what to look for both before and after Election Day here.
Rep. Sean Casten Looks to Defend Seat From Jeanne Ives, Bill Redpath in Illinois' 6th District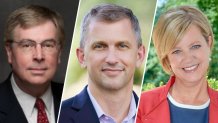 In 2018, Rep. Sean Casten turned the 6th Congressional District blue for the first time in decades. Now, the freshman Democrat looks to defend his seat from a challenge by two candidates: Republican Jeanne Ives and Libertarian Bill Redpath, the former quite a familiar face in Illinois politics.
Casten defeated six-term incumbent Rep. Peter Roskam by more than 7 points in one of the most high-profile and contentious races in the country during the 2018 midterm elections, a cycle defined by suburban voters turning against the GOP in droves – a narrative that certainly applied to this bellwether district.
In a district that backed Republicans in three out of the last five presidential elections, will voters again reject Trump and further cement 2018's seismic suburban Democratic shift? Or will the long Republican-leaning district return to its more conservative ways?
Read more about each of the candidates and the district's history here.
Rep. Rodney Davis, Betsy Londrigan Rematch in Central Illinois' 13th District
The race for Illinois 13th Congressional District is a high-profile rematch between incumbent Republican Rep. Rodney Davis and Democratic challenger Betsy Dirksen Londrigan, taking a second swing at the district he won by less than a point in 2018.
Davis is seeking a fifth term in office, having held the seat since 2013. The central Illinois district stretches from Bloomington to Alton at its southwest border and includes Springfield, Champaign, Decatur, Taylorville and more.
He narrowly fended off the 2018 challenge from Londrigan by a razor-thin margin of three-fourths of a point, earning just 2,058 more votes in a race that was so close, CNN projected Londrigan as the winner on election night before all the votes were tallied.
With such a small number of votes separating the two in their last head-to-head battle, this expensive and highly contested race is one where even a single ballot could be the tipping point.
Read more about both candidates and the major themes of the race here.
Rep. Lauren Underwood Looks to Defend 14th District Seat From Jim Oberweis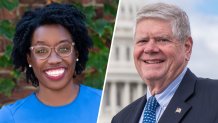 In 2018, Democrats eyed the 14th District as a potential long shot pick-up in their bid to take back the House. Rep. Lauren Underwood proved she was up to the task, ousting the longtime Republican incumbent in a stunning upset.
Underwood won by 5 points in a highly competitive suburban battleground district, making her the first African American, the first woman and the first Millennial to ever represent the majority-white district. At age 32 when she was sworn in, she also made history by becoming the youngest Black woman to ever serve in the House.
This election cycle, the tables have turned and Republicans have been eager to try and unseat Underwood in November, with state Sen. Jim Oberweis emerging from the GOP primary to take her on.
Containing parts of McHenry, Kane, Lake and Will counties, among others, the district was long a Republican stronghold. President Donald Trump won the district by 4 points in 2016, which was down from Mitt Romney's 10-point margin of victory four years earlier - but a victory nonetheless.
With Trump on the ballot this year, will a majority of voters still back him - or have they soured on him since 2016? That question will soon be answered, and the effects deeply felt in this race that's certain to draw national attention as a battleground district.
Read more about both candidates and the overall race here.
Kim Foxx Seeks Second Term Against Pat O'Brien, Brian Dennehy in Contentious Cook County State's Attorney Race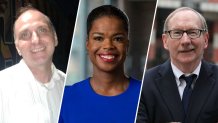 Incumbent Cook County State's Attorney Kim Foxx is running for a second term against two opponents in one of the most contentious local races this election cycle.
Foxx is favored to win reelection, running as a Democrat in a Democratic county in what, by many accounts, looks to be a Democratic year.
But what will be interesting to see is how the embattled prosecutor fares compared to other Democrats on the ballot in Cook County – and what that might spell for both a potential second term and the next primary election. She's running against Republican Pat O'Brien, who has seized on criticisms of her to mount his challenge, and Libertarian Brian Dennehy.
Read more about the issues at play in this race, the policies Foxx has implemented, the high-profile Jussie Smollett case and more here.
Illinois' Graduated Income Tax Proposal Up to Voters
There's one major question that will appear on every ballot in Illinois this year that could impact your bank account: a vote to change the state's income tax from a flat rate to a graduated tax.
A flat tax rate, the structure Illinois currently has, is one rate for all, regardless of how much money you make. A graduated income tax, also called a progressive tax, is a tax structure that levies increasingly higher tax rates on higher-earning individuals or businesses. Essentially, under this kind of system: the more you make, the more you pay.
Illinois' current individual income tax rate is a flat 4.95% for everyone. It's a flat rate across the board because the Illinois Constitution dictates that any income tax imposed by the state be "at a non-graduated rate." Any amendment to Illinois' Constitution, including the removal of that requirement, requires ratification by voters in a general election.
Read more about the plan to change Illinois' tax system, the proposed new rates, what supporters and opponents have to say and much more here.