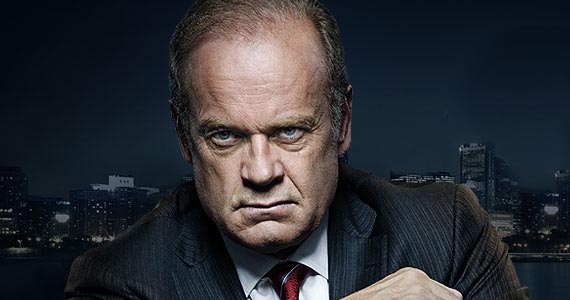 Kelsey Grammer's new TV series, Boss, is premiering next Friday on the Starz network. While it's the first program we can think of that's taken Chicago politics as its theme, it's not the first time Chicago politicians have been portrayed on screen. (There was talk of a Council Wars movie, starring Robert De Niro as Ed Vrdolyak, but not even De Niro could get people to pay $9 to watch Vrdolyak.) Here, then, is Ward Room's list of the best movies and TV shows about Chicago politics.

In Old Chicago: In this 1937 melodrama about the Chicago Fire, Don Ameche plays Jack O'Leary, son of the woman whose cow started the conflagration … and mayor of Chicago.

Medium Cool: This film about a television cameraman features footage of the riots at the 1968 Democratic National Convention.

Mahogany: Diana Ross plays an ambitious fashion designer from the South Side of Chicago. Billy Dee Williams plays her boyfriend, who is running for alderman.

Good Times (TV): Among the ghetto hustlers the Evans family has to deal with is Ald. Fred Davis, who passes up Florida for a bus driver's job so he can hire his niece.

Continental Divide: John Belushi plays Ernie Souchak, a Mike Royko-esque columnist who has to get out of town after he's beaten up by cops connected to a corrupt alderman he's investigating.

The Untouchables: Eliot Ness's anti-bootlegging squad gets its nickname from an alderman who unsuccessfully tries to bribe Ness into calling off his investigation of Al Capone.

E.R. (TV): Dr. Kerry Weaver gets a promotion after secretly treating an alderman for syphilis.

The Chicago Code (TV): Delroy Lindo played a sinister, gang-connected alderman whose ward stretched from Cabrini Green to Chinatown.

The Playboy Club (TV): It only lasted three episodes, so we never got to find out whether Eddie Cibrian's character was elected state's attorney with the Outfit's help.

Boss (TV): Kelsey Grammer plays a Chicago mayor trying to hide a degenerative brain disease from his family and his political rivals.
Buy this book! Ward Room blogger Edward McClelland's book, Young Mr. Obama: Chicago and the Making of a Black President , is available Amazon. Young Mr. Obama includes reporting on President Obama's earliest days in the Windy City, covering how a presumptuous young man transformed himself into presidential material. Buy it now!