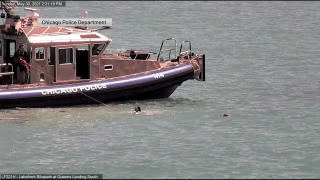 Officers with the Chicago Police Department's Marine Unit rescued a woman from Lake Michigan Sunday afternoon, police officials said.
At approximately 2:26 p.m., police responded to a call of a person in the water in the 700 block of South Lake Shore Drive.
CPD tweeted photos of Marine Unit officers assisting the woman onto a department rescue boat.
The woman, whose age hasn't been released by authorities, was taken to Northwestern Memorial Hospital for observation and was reported to be in good condition.