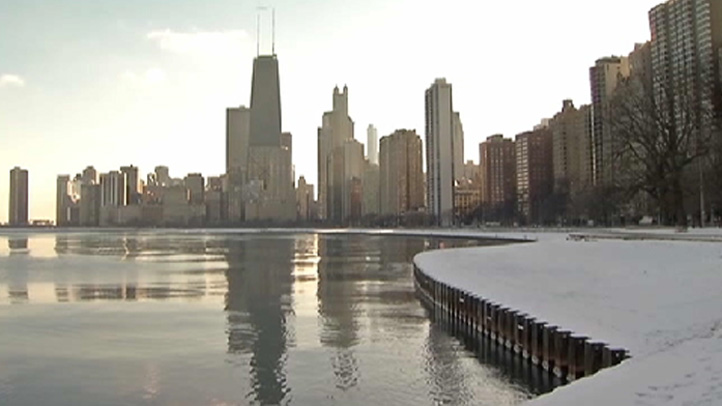 After the snow, comes the cold. Extreme cold.

Old Man Winter is giving Chicago a little taste of everything early this season as a deep freeze moved in overnight Wednesday and early Thursday morning.

Wednesday night was forecast to be the coldest air seen so far this season. The air temperature is expected to bottom out Thursday morning from 0 to -10 degrees, and at that temperature, even a slight breeze can easily push the mercury to 20 or 30 degrees below zero.
A Wind Chill Advisory was in effect through 5 a.m. Thursday. That advisory was extended until 6 a.m. for Kenosha and LaPorte Counties.
It's the kind of weather that makes you want to only spend the absolute minimum amount of time outside.

"It kind of makes you want to curl into a ball and go into hibernation," said Chicago resident Becca Spigel.

An Avondale senior center turned into a warming center Wednesday, with individuals stopping by for some hot coffee, food and some much-needed heat.
"I just don't know what I would ever do without a place like this," said Marty Glickman.

Home Depot is seeing an increase in people buying cold-weather supplies, especially space heaters.

"Whether it's just the basic window insulation kits, or the actual weather stripping, things of that nature, to really tighten up the doors, windows, any entryway within a house," employee David Gurino said.

Officials say to make sure your car is prepped for winter weather, your furnace is in good working order and your pets are all indoors. It's going to be brutal.

There may be a slight warm up on Thursday before another round of snow, possibly enhanced by Lake Michigan, with snow moving back into the area on Friday into Saturday.

The area's first big snowfall of the 2013-2014 season came Sunday, when between three and four inches dumped on the metro area caused airport delays and treacherous driving conditions.

More than 56,000 brave souls faced bone-chilling temperatures on Monday night at Soldier Field to watch the Chicago Bears take on the Dallas Cowboys. The temperature at kickoff was in the low teens and continued to fall from there throughout the game.

The mercury on Tuesday struggled to exceed past the teens. WIth the wind chill factored in, Chicagoans were dealing with temperatures in the single digits and below. Even a break of sunshine later in the day didn't raise temperatures all that much.
---
Weather is a shared experience, so help us adequately cover this week's winter weather. When the weather turns extreme in your area, post an update to social media using the hashtag #ChiWX to let us know where you are and what you're experiencing. We'll be watching!