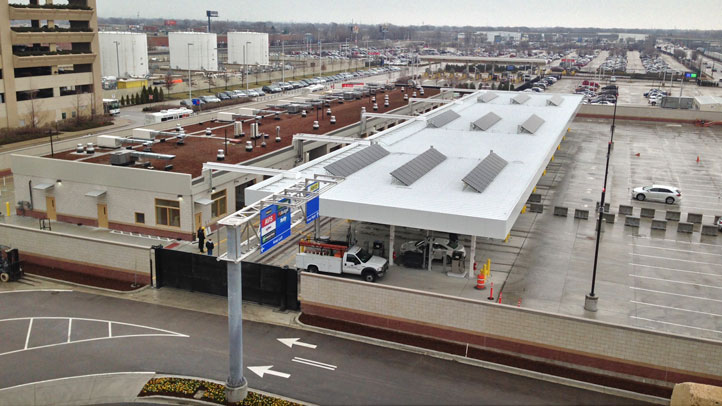 A new rental car center that puts eight companies in the same spot opened Tuesday at Chicago's Midway International Airport after a year and a half of construction.

The $55 million facility replaces the counters and parking lots that were previously located in and around the airport and puts Alamo, Avis, Budget, Dollar, Hertz, National, Thrifty and Enterprise together in one location.

"It's just easier for the customer to navigate. It's easier for the rental car organizations, creating a one-stop shop for them. They can fuel. They can turn their vehicle around quickly, washing and preparing it for the next customer all on site," said Chicago Department of Aviation Commissioner Rosemarie Andolino.
A five-level garage will house 1,870 vehicles, a 500 percent capacity increase.
Construction of the center began in August 2011 and finished on time and on budget, officials said, adding that it was one of the largest capital projects at Midway in nearly 10 years. It was funded by airport revenue bonds that were backed by a small fee paid by rental car customers for the last eight years.

It was also done with the environment in mind.

Instead of each company operating buses to shuttle passengers, a single fleet of white shuttle buses fueled by bio-diesel will use a dedicated roadway over Cicero Avenue to move passengers between the airport and the center. The center itself sports solar panels and wind turbines to generate electricity, includes a retention center for storm water and uses 17,000 square feet of space on the roof for vegetation. Even the water used to wash rental vehicles will be recycled, Andolino said.

A similar project is planned for O'Hare International Airport.