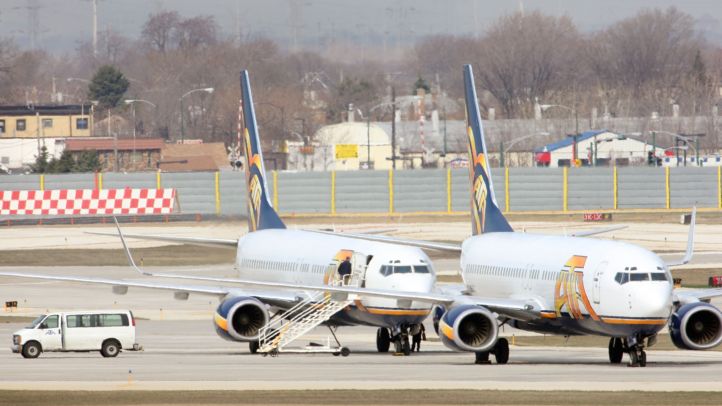 Chicago airport officials are hoping for the best but planning for the worst regarding the potential loss of overnight air control tower shifts at Midway International Airport.

"I'm hopeful and optimistic that our leaders at the federal level will come through to a conclusion and a resolution that is beneficial and supports this industry that is so important to our nation. Aviation is one of the biggest job creators," Chicago Department of Aviation Commissioner Rosemarie Andolino said Tuesday at a grand opening event for the airport's new consolidated rental car center.

Towers at Midway, the DuPage Airport, Peoria International Airport and General Mitchell International Airport in Milwaukee are on the Federal Aviation Administration's list of 72 facilities where overnight shifts could be eliminated as part of federal budget cuts.

The FAA is being forced to trim $637 million for the rest of the fiscal year that ends Sept. 30 as part of the "sequester." No decisions had been made as of Tuesday which of the six dozen airports would lose the overnight shifts.
U.S. Rep Dan Lipinski, whose district includes Midway, sent a letter to FAA officials on Monday requesting justification for the potential move.

"As one of America's top 25 busiest airports, Midway is vital to the economic success of the neighborhood and the entire Chicago area. Passenger traffic at Midway is at an all-time high, a remarkable accomplishment for an airport once on the verge of closing," the Democrat said in a statement posted to his Congressional website. "It makes no sense that the FAA would consider an overnight closure of the tower. There seems to be little – if any – cost savings from such a move."

Lipinski serves on the House Transportation & Infrastructure Committee and the Aviation Subcommittee.

Ald. Michael Zalewski (23rd), who chairs the Chicago City Council's Committee on Aviation, said he was hoping to find more support to push back on the FAA.

"This airport ... is such a vital part of the southwest side and of Chicago, and basically the Midwest, for a lot of different airlines that don't fly out of O'Hare, I think it would be a detriment if we didn't have that tower operating in the overnight hours," he said.

Loss of the overnight shifts wouldn't necessarily mean a closure of the airport. Instead, pilots would be left to coordinate takeoffs and landings among themselves over a shared radio frequency with no help from ground controllers. All pilots are trained to fly using those procedures.

The Chicago Department of Aviation has not announced whether it will allow controller-less takeoffs and landings.

"We are working and watching to see what will happen, but I will tell you that our team members -- team CDA -- have been prepared to assist where we can," said Andolino.

Most of Midway's operations are finished by midnight, though bad weather might delay some flights. That bad weather brings with it perceived safety issues at the one square mile airport in a densely-populated area of the city.

A list by the website AirFareWatchdog.com last summer counted the southwest side field as one of the 10 "scariest," pointing out that Midway's runways are around 2,000 square feet shorter than many others.

In 2005, an airplane slid off Midway's runway while landing in a snowstorm and crashed into traffic, killing a six-year-old boy.
Southwest Airlines, which accounts for 92 percent of Midway's air traffic, has not commented on the possible loss of the tower shifts.