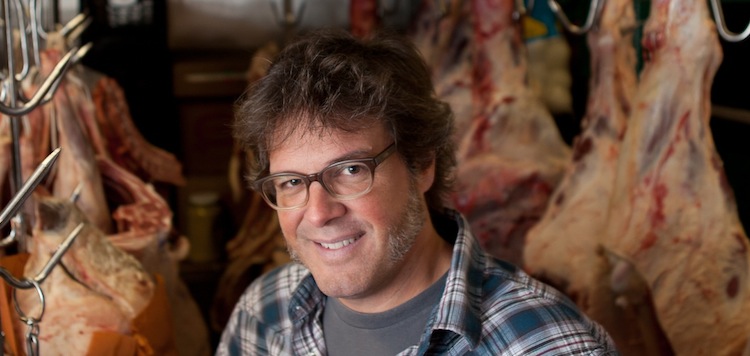 Thanks to social media's bright lights, it can be easy to forget about the old-fashioned way stars used to be born: film and television. And when it comes to the restaurant biz, for places that are destined for mainstream, non-Anthony Bourdain acceptance, the Food Film Fest is a great way to break through in the proverbial sense. Next month marks the third annual Chicago iteration, and it's great PR for the featured restaurants. From Nov. 15-17, guests will watch artfully shot short films showcasing foods being made, all while snacking on the exact items they're watching on the silver screen. More often than not, the chef behind the restaurant will come out afterwards to chat with the crowd.
For George Motz, who is the festival's director and co-creator, this is just one of a few gigs he has helping give media attention to restaurants. The documentary filmmaker is also behind the book Hamburger America, the app Burger GPS and also the Travel Channel's Burger Land. In addition to being a burger enthusiast, he has a knack for spotting restaurants before they're media sensations and helping to push them over the edge into sensation land, population: that restaurant.
I called Motz up to discuss what happens or tends to happen after he showcases a restaurant.
This is broad, but is there a trend in what tends to happen to restaurants after you feature them on TV or in a movie?
George Motz: I'll tell you this much: We do know that when we show a film at the festival, it can be about the smallest subject. We're showing a film this year about peanuts. We've shown films in the past about oysters. We've shown films about small barbecue places -- they've told me, "Wow, ever since I was in your festival, my business has gone up tremendously."
I don't know if you know Art Jackson and Pleasant House Bakery. We featured Art as a featured chef at our festival last year in Chicago. He's now expanding and doing really well. He was already on the rise to begin with. We actually look for chefs that are on the rise that people wouldn't necessarily know about. They wouldn't be on anyone's radar.
It's more like an accelerant to the flame. Not setting the fire in the first place.
George Motz: Yes. We're definitely not setting fire to anything. We'd like to think we would be, but we're not. [Laughs.] We're more busy looking at the uncommon trend to try to piece things together, trying to find ways to make people appreciate stuff they wouldn't normally look at. That's the whole idea of the festival in the first place is we celebrate food and people who make food.
Do you think 10 years or 20 years ago this sort of film festival could have happened?
George Motz: Not a chance. We happened to hit it just right. Just right. You honestly could not have done this 10 years ago. Even when we started, somebody said to me, "I don't think you're going to be able to sustain this business because how are you going to find the next 15 food films?" [Laughs.] We ask for submissions every year and by the deadline this year we received in New York 180 different films. We can only screen 40!
Well, never mind that we were still recovering from 9/11 a decade ago, but I doubt you could do something like this even five years ago.
George Motz: I think what's happened is there's been a great push to understand where your food comes from. Not only that, but who's making it. Because of that they keep pushing the boundary all over the country, trying new things and things they wouldn't normally.
What qualities do the people behind these restaurants have in common?
George Motz: They have the sort of tenacity that we have. They definitely do. They understand the need to take a few extra steps to get there. It's not about throwing a lot of money at the situation. It's literally about getting out there and seeing people and watching them eat your food. That really is what it's all about. It's about being scrappy. We don't purport to be an enormous festival. We don't want to be. We'd rather be a more selective festival that understands that the people who are showing on the screen -- it's not about big business, it's not about big stuff at all. It's literally about people are going to be the big businesses of the future. We're showing the ones who are just starting out in a way.

David Wolinsky is a freelance writer and a lifelong Chicagoan. In addition to currently serving as an interviewer-writer for Adult Swim, he's also a comedy-writing instructor for Second City. He was the Chicago city editor for The Onion A.V. Club where he provided in-depth daily coverage of this city's bustling arts/entertainment scene for half a decade. When not playing video games for work he's thinking of dashing out to Chicago Diner, Pizano's, or Yummy Yummy. His first career aspirations were to be a game-show host.