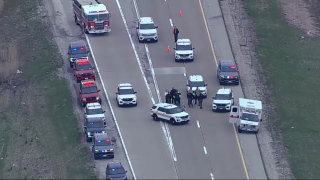 An approximately 75-mile police chase involving a stolen Chicago Fire Department ambulance ended Monday evening near Dwight in Livingston County, according to police.
At about 4:40 p.m., an ambulance was parked on the street in the 200 block of West Cermak Avenue, outside a CFD station, when it was stolen by an unknown individual, according to Chicago police.
The chase ended at approximately 6:40 p.m. on Interstate 55 between Gardner Road and Illinois Route 47. Illinois State Police confirmed it assisted with an incident involving a stolen ambulance from Chicago, and one person was taken into custody.
Video showed numerous law enforcement vehicles and Illinois state troopers on scene after the suspect exited the ambulance and was placed into custody.
Both southbound and northbound lanes of the interstate were closed while law enforcement worked at the scene late Monday evening.
Additional information wasn't immediately available.