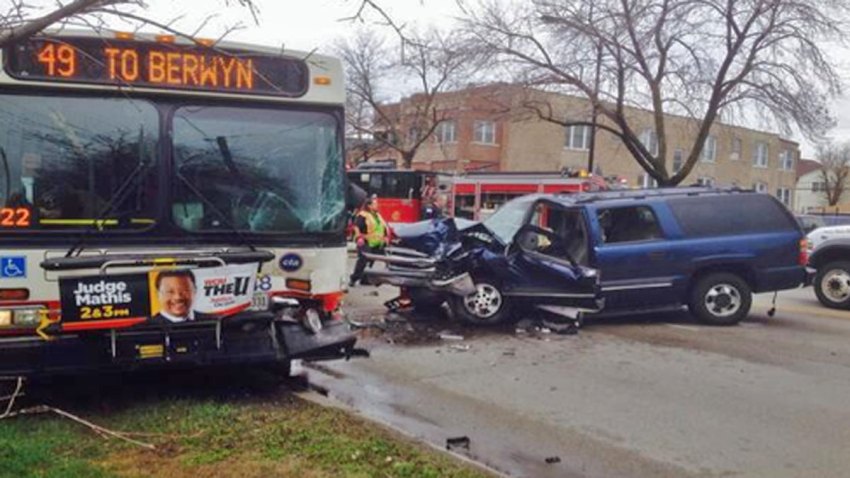 Fifteen people, including two children, were injured when a Chicago Transit Authority bus and an SUV collided head-on Monday morning in the city's south side Gage Park neighborhood.
CTA spokeswoman Lambrini Lukidis said the Route 49 bus was northbound on South Western Avenue when it collided with an SUV traveling southbound near West 50th Street shortly before 10 a.m.

Authorities said 15 people were injured and taken to hospitals, while nine others refused medical treatment.
The woman driving the SUV was pinned inside the vehicle and taken in serious-to-critical condition to John H. Stroger Jr. Hospital of Cook County, said Fire Media Affairs Director Larry Langford. The driver was taken to the hospital in critical condition. Two children were also taken to Stroger Hospital in fair-to-serious condition.
Six adults on the bus, including the bus driver, were taken to the hospital in fair-to-serious condition, Langford said. The woman who was driving the bus was taken to Little Company of Mary Hospital and Health Care Centers in Evergreen Park.

Another six people on the bus, all adults, were taken to the hospital in good condition, Langford said.

Witnesses told investigators the bus blew the horn, but the SUV drifted into oncoming traffic and made impact, Langford said.

No citations had been issued as of 11:30 a.m.