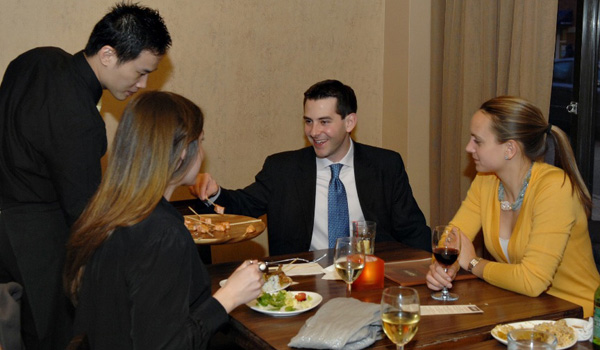 Chicago restaurants and chefs were well-represented on the list of 2014 James Beard Awards semifinalists.
Chicagoans picked up nods in major categories such as Best New Restaurant (Brindille, Nico Osteria); Outstanding Chef (Carrie Nahabedian, Naha) and Outstanding Restaurant (Spiaggia).
But Chicago showed its might in the Best Chefs: Great Lakes category, with half of the nods going to Chicago chefs.
Check out which Chicago restaurants and chefs made the semifinals below, and click here for the full list.
The final Restaurant and Chef Award nominations will be announced in Chicago on March 19, and the awards will be held in May in New York.
Best New Restaurant
Brindille, Chicago Nico Osteria, Chicago
Outstanding Bar Program
The Violet Hour, Chicago
Outstanding Chef
Carrie Nahabedian, Naha, Chicago
Outstanding Pastry Chef
Dana Cree, Blackbird, Chicago
Outstanding Restaurant
Spiaggia, Chicago
Outstanding Restaurateur
Donnie Madia, One Off Hospitality Group, Chicago (Blackbird, Avec, The Publican, and others)
Outstanding Service
L2O, Chicago
Topolobampo, Chicago
Outstanding Wine Program
Sepia, Chicago
Rising Star Chef of the Year
Jimmy Bannos Jr., The Purple Pig, Chicago
Matthew Kirkley, L2O, Chicago
David Posey, Blackbird, Chicago
Best Chef: Great Lakes
Dave Beran, Next, Chicago
Abraham Conlon and Adrienne Lo, Fat Rice, Chicago
Curtis Duffy, Grace, Chicago
Paul Fehribach, Big Jones, Chicago
Phillip Foss, EL Ideas, Chicago
Ryan McCaskey, Acadia, Chicago
Erling Wu-Bower, Nico Osteria, Chicago
Andrew Zimmerman, Sepia, Chicago
Iliana Regan, Elizabeth, Chicago