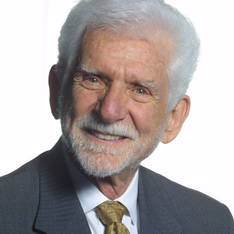 There's a lot to wrap your mind around with the approaching Chicago Ideas Week, the weeklong invasion of super-smart and super-influential folks taking place at venues all over town from Oct. 8 to 14.
We're helping with a series of speaker profiles designed to highlight the speakers who will benefit you, the sexy Chicago entrepreneur. There are just over 100-plus speakers announced so far, and more to come.
In this profile: Martin Cooper.

Accolades: At Motorola in the '70s, Cooper led the team that developed the world's first mobile phone. (Remember the brick phones?) He also co-owns the related patent 3,906,166, for the radio telephone system. In the years since, his prestige and recognitions have only continued to swell: He nabbed the Wharton Infosys Business Transformation Award in 1995, the Prince of Asturias Award in 2009 and in Feb. 2010 he was elected to the National Academy of Engineering.
Why you should care: Well, he's also a member of Mensa. But without throwing around names and awards, Cooper is a savvy guy who tirelessly has found ways of recognizing opportunities to innovate and seizing them. Oh, and also having the fortitude to chase dreams, repeatedly, that might seem crazy. That iPhone in your pocket? It probably couldn't have existed without Cooper.
When you can see him: Oct. 12, 9 a.m. to 6 p.m., Oriental Theatre.
Read more here.
David Wolinsky is a freelance writer and a lifelong Chicagoan. In addition to currently serving as an interviewer-writer for Adult Swim, he's also a comedy-writing instructor for Second City. He was the Chicago city editor for The Onion A.V. Club where he provided in-depth daily coverage of this city's bustling arts/entertainment scene for half a decade. When not playing video games for work he's thinking of dashing out to Chicago Diner, Pizano's, or Yummy Yummy. His first career aspirations were to be a game-show host.