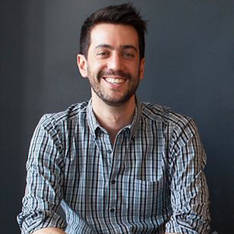 There's a lot to wrap your mind around with the approaching Chicago Ideas Week, the weeklong invasion of super-smart and super-influential folks taking place at venues all over town from Oct. 8 to 14.
We're helping with a series of speaker profiles designed to highlight the speakers who will benefit you, the sexy Chicago entrepreneur. There are just over 100-plus speakers announced so far, and more to come.
In this profile: Dan Barasch.
Accolades: From his official bio: " Dan previously worked within New York City government, as well as at Google, UNICEF, the 9/11 Survivors' Fund, and the World Affairs Council."
Why you should care: Well, you might think the idea of an underground park in New York City is a strange or implausible idea, but 3,300 people beg to differ and have dropped $155,187 on Kickstarter to help make it happen. It's being called Lowline, and is not science-fiction at all. It's regular non-fiction. If you're at all interested in running some sort of business that helps people out in ways they didn't even think was possible, and helps make where you live a little -- or a lot -- greener, Barasch will have some great insights into this sort of strategy. This sounds like Futurama-type stuff, people… but happening right now!
When you can see him: Oct. 9, noon - 1:30 p.m., Albert Theatre at Goodman Theatre.
Read more here.
David Wolinsky is a freelance writer and a lifelong Chicagoan. In addition to currently serving as an interviewer-writer for Adult Swim, he's also a comedy-writing instructor for Second City. He was the Chicago city editor for The Onion A.V. Club where he provided in-depth daily coverage of this city's bustling arts/entertainment scene for half a decade. When not playing video games for work he's thinking of dashing out to Chicago Diner, Pizano's, or Yummy Yummy. His first career aspirations were to be a game-show host.