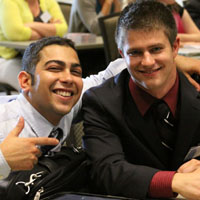 Entry costs in to the world of small business can sometimes be steep, but savvy entrepreneurs know how to take advantage of programs that give them a leg up.
Tiesta Tea principals Dan Klein and Patrick Tannous, who launched Tiesta's product line in August 2010, managed to do just that to make sure their product, which recently national acclaim as the Best New Product for the 2011 World Tea Expo, got all the testing it needed.
Tannous and Klein took advantage of the University of Illinois' incubator program for entrepreneurs. To find out more about the duo's achievements and how other new business owners can take advantage of programs like these, Inc. Well gave Tannous and Klein a call.
How has the award impacted your business?
Dan Klein: I really can't say enough about that award. We talked to all our buddies in the tea industry and a lot of mentors, and they all said it's really a golden ticket. The World Tea Expo is almost like the governing body of the tea industry. They're the only ones who put out the best industry reports. Every major tea company is at their exposition. It's really a godsend. It's going to help our sales and marketing.
Even something as simple as running a Groupon. We ran some Groupons in the past, and we didn't as well as we expected, but sure enough we let them know we won this award and they were instantly interested in running more Groupons.
Your company started entirely through U of I?
Patrick Tannous: We studied abroad together and we came across a traditional Czech tea house in Prague. We noticed that tea was very serious in Europe, more serious and more commonly used than in Europe. So we saw an opportunity.
Once we got back, we were still both in school. We used our teachers and our entrepreneur class and department to the full, maximum capability. We got them to really help us out from everything from lawyers, mentors, business-plan writing, and funding. You name it.
What year were you in school when you came back?
Patrick Tannous: We were both starting our senior years. Dan has graduated with a degree in finance. I am still currently a student. My graduation date is not set in stone yet because of the company. I had to take a semester off.
Do you need to be a student to take advantage of this program?
Patrick Tannous: You don't have to be a student. One of Dan's teachers encouraged us to apply for this program called Illinois Launch. It's an incubator program that was the whole summer down in Champaign. We lived there over summer, and we literally worked on our business all day everyday. They give you some money, they give you some mentors, they give you an office. They give you everything to really launch your business.
We took that and we really ran with it. We were the best company to come of the program, and because [of that] they accepted us into the program a second time. So we got a little more money and got to use their office for a little longer.
Anybody can apply for it. The director is Arama Andrews. She's one of our mentors and guides. She's a true leader for us. The other director is a big, big teacher down at U of I. His name is John Clarke. They really just want people who are dedicated, people who really want to succeed. They'll take your passion, and they'll help you fuel it. You'll be ready to go as long as you want it. They'll help you do it.
What is the application process like?
Dan Klein: It's actually pretty tough. They put you through a series of questions. I would say it's probably equivalent to a five-page business plan, asking you your idea, who your competitors are, what your business model is, where you see growth, and how much money you would need to really get it going. We also had to create a five-minute YouTube video. We really only had a couple days to do it. At that point we really weren't sure if we were going to be running the business so we figured the program would allow us to foster the idea out and see how much merit it had.
What other incubator programs like this could people take advantage of if they can't go down to U of I?
Dan Klein: There are programs like this across the country. I'm not positive on this but I know U of I does take in some businesses that don't work out of Champaign. They take people based out of Chicago, because many of these companies are out of Chicago anyway. I remember off the top of my head there were a few people who ran their company out of Chicago and still participated in the program. They just did a little bit of commuting. But programs like this are really what's fostering the next generation of entrepreneurs.
As far as its funding goes, it's not like it used to be 10 years where you could go to a bank or a venture capitalist and get money very regularly. Banks are very hesitant to give out money. Programs like this are really the only way to get your idea funded or at least started to see where it can go. At the end of the day, an idea is an idea. The program is best for seeing if your idea has merit. You're much better off doing months and months of research like we did and not spending a penny, or spending a couple hundred dollars and researching and talking to people -- rather than dumping money into production without knowing the market. They also give you some office space.
How does the company today resemble what you initially pitched?
Dan Klein: It doesn't resemble it at all. Our original idea was to create a tea café, similar to what Argo Tea does here in Chicago. Basically the Starbucks of tea. We realized this wasn't feasible for a lot of ideas. Even though there's a growing market, in terms of real estate? If you don't have a good spot, you're not going to do much business. To get a good spot costs a lot of money. We estimated to build out a store would cost a couple hundred-thousand. If you're trying to build a store from scratch, and you don't have a whole ton of money, you're giving out at least 50 percent of your company to get going. We didn't want to do that.
After we talked to people, we realized we could sell to businesses much easier than starting a store. It's a lot more sustainable as far as growth goes. The risk is much less. We buy as much tea as we sell to our clients. There's probably at least 150,000 places in the United States that could be potential clients of ours. That appealed to us because it was an easier start-up.