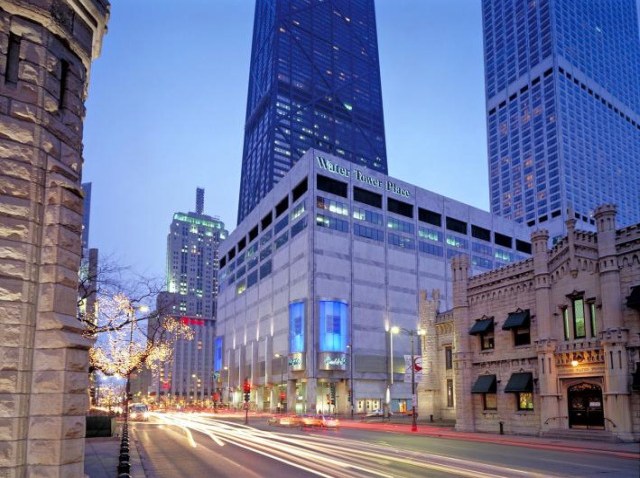 Not to be smart alecky, but do you know what a chamber of commerce does? If you run your own business, you should be a little bit embarrassed -- but not too much -- if you don't. Because, guess what: A lot of people don't. And that's okay. That's what Inc. Well is all about, baby: Asking the questions you might be embarrassed to admit you don't know the answers to.
I hopped on the phone with Melissa Flynn, the executive director of Lincoln Square's Chamber of Commerce, to explore this and many many other issues -- like how businesses in areas without chambers can get help, what's on tap for Lincoln Square this year (like Saturday's sold-out Winterbrew event), and what sort of businesses that neighborhood would like to attract.
For people who don't really know, what does a chamber of commerce do?
Melissa Flynn: [Laughs.] It is kind of a funny question because a lot of people have no idea what a chamber of commerce does.
I figured.
Melissa Flynn: [Laughs.] Depending on the chamber, there's a vast scope of services that chambers offer. For us, what we really focus on is trying to be a partner to businesses that are members. We offer networking events. We offer a vast array of educational events for them. We do a lot of community-wide events to build not only the relationship between our businesses and the community, but also to build awareness of Lincoln Square. We do a lot of the day-to-day stuff, helping people with the permit process, being a liaison to the city of Chicago, being a liaison to our aldermen. To really help them with A-Z, running a business in Chicago.
Why do you think people don't know that?
Melissa Flynn: I think people have this idea of a chamber of commerce from maybe 50 years ago, where it's just this place where you go where it's just this networking group, and you just meet the person next to you. I'm not sure that everybody realizes that many chambers are extremely professionally run. They really are your partner in developing your business. We're accredited by the U.S. Chamber of Commerce, so our chamber has gone that extra step to make sure we're on the cutting edge of services we can provide to members.
You say a lot of these chambers are different. What are some of the services that makes Lincoln Square's unique?
Melissa Flynn: I think what's kinda fun that we do, and what has really been beneficial to our years, is over the last couple of years we've worked closely with our members to evolve our benefits. We offer the networking that everybody does, but we really offer a wide scope of educational opportunities. Particularly in social media, in managing employees. We're working on new products and services, such as creating a secret shopper opportunity for our members so you can really make sure that the opportunity and the type of experience you want to create at your store is happening even when you're not there.
One of the things we're really excited about, and something our members have been really appreciative about, about two years ago we partnered with a PR firm to really help get the word out about Lincoln Square and really not only let our members know what we do, but have greater awareness about the Lincoln Square neighborhood around Chicago.
How can entrepreneurs take advantage of your services? Do they just call and say, "I need help!"?
Melissa Flynn: Sometimes it really is just that. Obviously we encourage them to become a member, but we receive phone calls, absolutely daily, of, "I'm thinking of opening a business, can you tell me about the neighborhood?" Just attracting entrepreneurs to the neighborhood to, "I want to work with SBIF." That's Small Business Income Financing. It really is them picking up the phone or they might have called the alderman's office and they let us know and we call them. It really starts that basic. They often don't know why they're calling, but they know they need some help. We really help talk through where they are in their business process and where they want to get to. It really starts off with, "So, I hear you're a chamber." And we go from there.
Well, at least they're speaking in a complete sentence! But the flip of that, I'm curious, what are the sorts of things you don't help people with? What sort of unrealistic expectations do people have about what a chamber does?
Melissa Flynn: [Laughs.] One of my favorite examples of that is somebody called me on a Monday morning and said, "There is a dead squirrel in front of my door. Will you come and remove that?" No. We don't remove dead squirrels. There are some things that we just don't do. But for the most part, really, we get some strange questions and we will help them anyway we can or refer them to another resource.
So, animal control, maybe.
Melissa Flynn: [Laughs.] Yes, we direct them to resources like animal control.
If there's a lack of education out there about what it is you do, what's the one service you offer that you wish everyone knew more about?
Melissa Flynn: I'd say there's a couple of areas. One thing is people don't always know about the services that are available, such as SBIF funding, and they'll start a project, find out about it midway through, and unfortunately that type of grant is something you have to get approval prior to starting anything. We would always love to talk to people from the beginning, when they're coming up with either redoing something in their business or doing a build-out. That's one of the things.
We have a number of businesses who are excellent at what they know, but they don't know how to market their business. They'll come to us and it's one of those things where we really wish they had come to us in the beginning to really develop a comprehensive plan. For instance, we're doing a collaboration with SCORE and Ravenswood Community Bank to provide three seminars coming up in the upcoming weeks about the basics: marketing your business, selling your business, and protecting your customer-service reputation.
One of the things we get questions a lot about in the seminars that we'll be covering is knowing how to hire good employees and how to perhaps get rid of employees who aren't doing so good. A lot of times we wish people would bring us in at the beginning instead of, "Oh, now we have a problem." We can do a lot of getting people on the right track.
Speaking of getting on the right track, what are some initiatives or big projects you are hoping to tackle this coming year?
Melissa Flynn: There's a couple. For instance, one of the ones we talked about last year was driving traffic to the neighborhood in the winter. January, February, it's not really when people wanna come out so much. In September we came up with an idea to do a craft-beer event. It's actually being held this Saturday, the 28th. We just wanted to get people knowing and thinking about Lincoln Square. We worked with a number of our local businesses -- Dank Haus, Brewcamp, Grafton, and Fountainhead -- and created this thing called Winterbrew. Now it's sold out at over 5,000 people. The idea behind that is to get people to think about shopping locally and getting out there, even in the winter. Because you kinda forget about it. We're really trying to do events like this and our Wine Stroll, which will drive people in the end of March. We were really lucky with the holidays that our businesses are mostly up because people in the neighborhood took shopping locally so seriously and really supported our community. That's an initiative we're going to full-on support in 2012. When you shop at an independent store, 68 cents per dollar stays in the community versus shopping in a national chain store, where 43 cents per dollar stays in the community. That's a really big number. It also keeps jobs in our community.
What sort of businesses do you think Lincoln Square needs more of?
Melissa Flynn: That's actually one of the questions we've been talking a lot about in our board meetings and at our membership. We just talked about this a great deal at our annual meeting about how we have an opportunity with the street-scape of Lawrence Avenue to really attract the next growth of business to Lincoln Square. We're really trying to develop this strategic planning committee that can talk to the community, the businesses, and see what businesses would be supported in our neighborhood and what businesses would be complementary. That's something we're really focused on for 2012: what is that right mix? The distance, the location, where they should be.
For neighborhoods that don't have a chamber, like Ravenswood, what can the businesses there do? Are they still eligible for chamber assistance?
Melissa Flynn: Well, the nice thing is a business can join any chamber that fits their needs. For example, we have a lot of businesses who are not right in Lincoln Square, Lillistreet is on Ravenswood. They've been a member of ours for many years. You don't have to be in one specific area.
The nice thing about Chicago and Illinois, there is the Chicagoland Chamber, there is the Illinois State chamber, and so many neighborhood chamber, that really any business that wants to take advantage of the services of chamber, can. They might not have one right on their block, but there are so many chambers and organizations within Chicago, that you can do a little bit of research, find out what chamber has a mission that will help your business move forward, and you can join it. Whether you're right in that neighborhood or not. There's really a lot of opportunities for businesses to get help within the Chicago area.
David Wolinsky is a freelance writer and a lifelong Chicagoan. In addition to currently serving as an interviewer-writer for Adult Swim, he's also a columnist for EGM. He was the Chicago city editor for The Onion A.V. Club where he provided in-depth daily coverage of this city's bustling arts/entertainment scene for half a decade. When not playing video games for work he's thinking of dashing out to Chicago Diner, Pizano's, or Yummy Yummy. His first career aspirations were to be a game-show host.