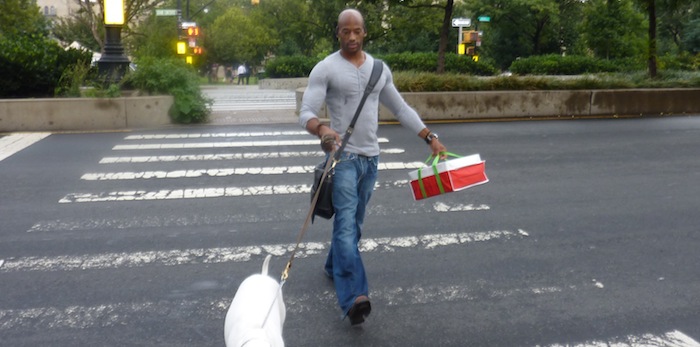 You never can tell when when an idea might lightning bolt itself into existence in your mind. For Ronald Scott, a Chicago-area lawyer who caught the entrepreneurial bug in 2004, it came in 2009. By then, Scott had been doing real estate on the side with a license he got just to have something extra on the side. When the housing market tanked, though, he took a job delivering pizza at places like Gino's East -- something he had done back at U of I. When a customer schlepped into his restaurant off the No. 11 bus with her work bag, her purse, and a travel bag with wheels, he watched as she asked for a bag to bring her pizza home.
The store, alas, didn't really have anything other than a plastic bag used to transport two-liters of soda. She took it because, well, they had nothing else.
What Scott saw, though, was the opportunity to invent something to fix this very problem. That invention is the Scott Pizza Bag, a $3, lightweight, foldable, washable and reusable consumer bag to tote around your piping hot pies. Since the bag was released, Scott recently moved to New York to pursue acting and also spread the business there in the land of massive, foldable slices. His mom is overseeing things back home. To find out what made a former lawyer and real-estate agent decide to sell pizza bags, I gave Scott a call.
What made you decide to pursue this idea? And did you know when you hatched this idea that you'd be moving to New York and would be co-running the business with your mom?
Ronald Scott: I'm kind of a creative person and this is something that I undertook and really that was the start of it. My actual intention at the time was to just to see if I could actually come up with an invention that could actually allow customers to be able to carry out their pizzas in a nice level container with handles in one hand. So, at the time, basically, I would say the next challenge was figuring out, "Okay, what can I make it out of?" I eventually settled on making it out of, basically, the same materials that you see when you go to the grocery store when you see stores selling polypropylene reusable grocery bags so that they don't have to use plastic bags all the time. That was one of the things that I figured I could make it out of. I actually launched it, Dave, back in September 12th of last year after I actually came up with the prototype, I then ordered a few units from a supplier and then I decided I would at least try to see if some local stores around town or if some retailers would be possibly interested in it. That was basically my thought process at the time.
How has your mom helped you out?
Ronald Scott: My mom really helped me out with the idea and she helped me get started with it. She actually went with me. We started off going to store to store, and that proved not the best use of our time. So, then we basically decided to just mail out some press releases -- not just to news media but also to some individual restaurants and retailers. We actually made fliers. We did the whole thing, getting them made from Vistaprint and getting cards made. We went to some small-business organizations just so we could get some tips on what we could do to make this work. I don't mean we handled it smooth. There have definitely been plenty of ups and downs. I definitely wouldn't say that we made it yet, but one of the things that we have been blessed with is the opportunity to talk more about it. We've actually gotten quite a few hits on Facebook and Twitter and we actually have had a few restaurants that have been interested in it.
How much research did you do before you started going into production?
Ronald Scott: I would say, Dave, that one thing I would pass on to other small-business owners is if you have an idea: Don't get bogged down with research, however there's certainly a place for doing research into your product before you launch it. As much as you possibly can within reason, because one of the big hurdles that I have come across and it's really of my own making is that I ordered a few initial units, which was fine, I ordered about 5,000, which my supplier -- that was the most I could order at one time. But the thing is what I should have done is I should have actually gone to pizza places or at least done form of research to find out what kind of sizes that they sell, or that they sell more of, anyway. I ordered all 12-inch size, Dave, which pizza places, of course, most do sell those, however a lot of pizza places that I have an interest in have asked me if they could actually have a full line for their stores. Meaning, 12-, 14-, 16-, sometimes 18-inch units. And so because my supplier only will basically sell to me 5,000 at a time, that's probably been my biggest hurdle in terms of being able to get those as fast as I would have liked. As it is, right now, I'm actually trying to build on the momentum that I have been getting in terms of the attention for the bag to try to get as many stores as possible within different regions of the country to pool in, if you will, so I can actually supply them with a full line.
I knew this was going to be a long haul, regardless. I guess that's probably a lie. The first six months I thought it was going to happen fast. [Laughs.] Oftentimes when you embark on something new you have to actually plan on having to do it for a little while. With the dynamic of me moving and doing other endeavors, I wouldn't say it's made it more difficult because I have my mom back home to help me out with anything there, but I would say it's given me another opportunity to broaden the exposure by also focusing on places here as well in New York.
David Wolinsky is a freelance writer and a lifelong Chicagoan. In addition to currently serving as an interviewer-writer for Adult Swim, he's also a comedy-writing instructor for Second City. He was the Chicago city editor for The Onion A.V. Club where he provided in-depth daily coverage of this city's bustling arts/entertainment scene for half a decade. When not playing video games for work he's thinking of dashing out to Chicago Diner, Pizano's, or Yummy Yummy. His first career aspirations were to be a game-show host.