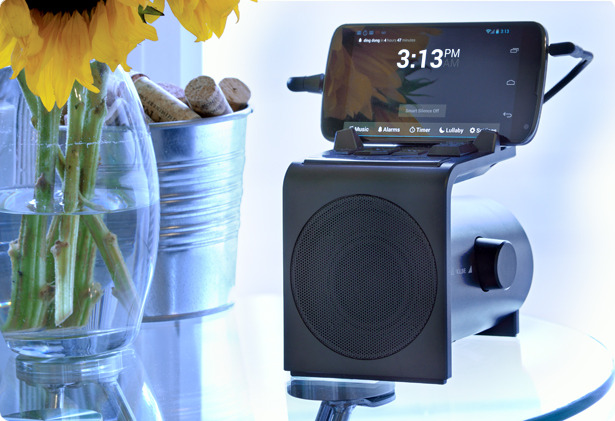 Even though everyone and their kid brother has a Kickstarter these days, the site still stands as an important testament to the entrepreneurial spirit — and just how many people have good ideas and how few of them don't have enough money to do it on their own. That's not intended as a knock, but rather a fist-bump to people who are out there hustling and trying to make something they dream of and believe in happen.
Well, here comes another Kickstarter: This one's from a small Chicago startup, Hale Devices, operating out of 1871. The year-old company, previously known as Sonr Labs, is currently taking pre-orders via Kickstarter (so that means it's very far along on production) for the Hale Dreamer, an app-powered alarm clock dock for Android.
It's meant to combat the usual things smart phones do: make noises, alert you of texts, let you know when you have something in your schedule, and so forth. It's named the Hale Dreamer because it is designed to keep you sleeping and dreaming.
One of the campaign's reward tiers is kinda fun: You get to create an alarm that will come bundled with the device. Imagine all the people you will get to annoy with your idea!
If you want to check it out further, the Kickstarter is here.
David Wolinsky is a freelance writer and a lifelong Chicagoan. In addition to currently serving as IFC's comedy, film, and TV blogger, he's also a comedy-writing instructor for Second City and an adjunct professor in DePaul's College of Computing and Digital Media. He was the Chicago city editor for The Onion A.V. Club where he provided in-depth daily coverage of this city's bustling arts/entertainment scene for half a decade. His first career aspirations were to be a game-show host.