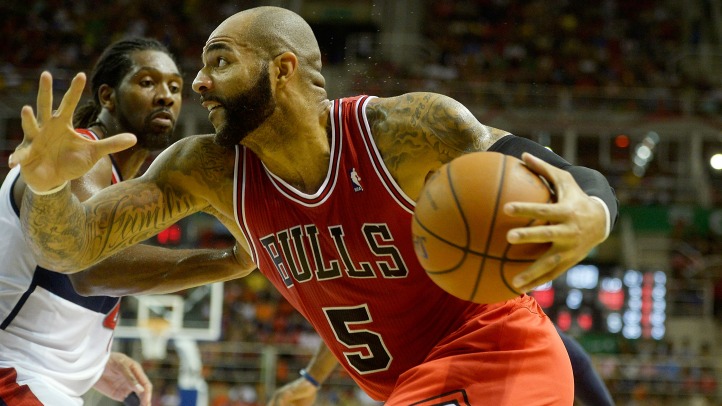 The Chicago Bulls improved their preseason record to 3-0 as they defeated the Washington Wizards 83-81 in front of 13,000 basketball fans in Rio de Janeiro, Brazil. Chicago secured the victory despite Derrick Rose and Joakim Noah watching from the sidelines.
Rose was scratched from the lineup with pain in his surgically repaired left knee, and Noah is still battling a groin injury that has kept him out of all three of Chicago's exhibitions.
Taj Gibson led the Bulls in scoring off the bench with 18 points. He also grabbed eight rebounds and blocked four shots in 32 minutes of action. Luol Deng contributed 14 points, six assists and five rebounds, while Jimmy Butler scored 11 points and came away with six boards.
As a team, the Bulls shot 43 percent while holding the Wizards to 33 percent shooting from the field, but didn't shoot exceptionally well from long range, connecting on just four of their 20 three-point attempts (20 percent). Chicago also had a +5 rebound advantage (49-44).
The Bulls will travel back to Chicago on Saturday night and will prepare for their next preseason contest against the Detroit Pistons on Wednesday night at the United Center.
Notables:
Kirk Hinrich scored eight points, and had five rebounds… Nazr Mohammed scored nine points but somehow only managed to grab two rebounds… Carlos Boozer finished the game with nine points and eight rebounds... Chicago committed 24 turnovers in the game