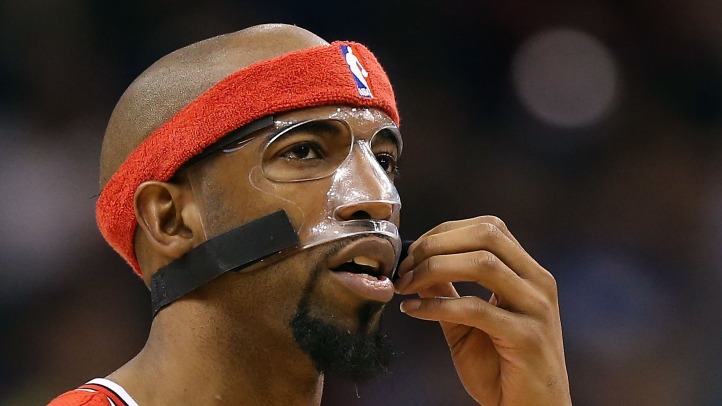 The Chicago Bulls should have had no trouble winning Saturday night's game. But the Washington Wizards - despite not winning a game in over two weeks - made the Bulls earn the victory.

With the time off between Christmas Day and gamenight combined with injuries to John Wall and Trevor Aiza, two of the Wizards' key players, the 87-77 victory should have been as routine as a slam dunk.

However, Tom Thibodeau probably recognized the game was an opportunity to experiment with different lineup combinations the players weren't used to playing under, and gave extended minutes to guys who usually ride the bench. In retrospect, the game against the Wizards was the right game to take a gamble, making it a more impressive victory for a Bulls team who desperately needed a win after getting blown out in their last two contests.
The Good
Marco Belinelli (17 points) reverted back to his reserve role as Rip Hamilton (nine points) returned to the starting lineup after missing Chicago's last 12 games with a torn plantar fascia in his foot. Carlos Boozer (15 points, 12 rebounds) had a solid outing, while workhorses Joakim Noah (nine points, 11 rebounds, five assists) and Luol Deng (11 points, six rebounds) had relatively quiet nights. Kirk Hinrich (10 points, seven assists, six rebounds) played well also. Thibs also gave Nazr Mohammed (eight rebounds) an extended look off the bench, something we haven't seen much of since the preseason. The Bulls also took care of the ball, turning it over just eight times while forcing Washington into 16 giveaways, and outscored the Wizards bench, 33-24.
The Bad
The Bulls usually don't win when the opposing time has the upper hand in the rebound margin, but they did on Saturday night as the Wizards won the battle on the boards, 56-49.
The Ugly
It wasn't the best shooting display from either team on Saturday night as the Wizards shot 37 percent from the field and the Bulls, 39 percent. Nate Robinson (seven points) and Taj Gibson (six points, three rebounds), two of Thibodeau's key reserves off the bench, combined to shoot 6-15 from the field.
Follow "Outside Shot" on Twitter (@Outside_Shot) for more Bulls news and information.