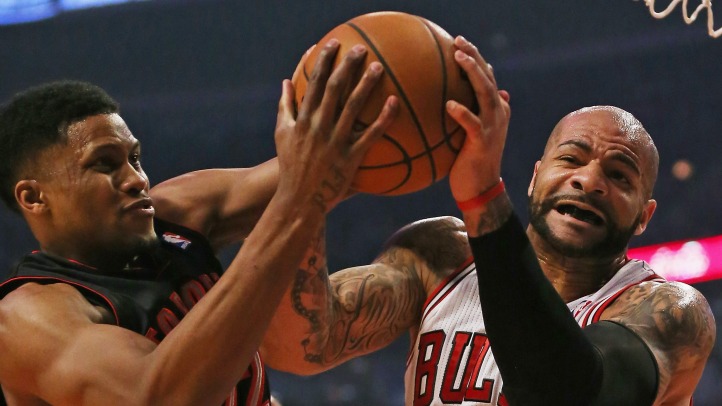 Well, add the Toronto Raptors to the long list of bad teams the Bulls have lost to this season. Tuesday night's 101-98 loss to Toronto earned the Bulls back-to-back losses against teams not headed for the playoffs.
Currently, the Bulls are in fifth place in the standings, just a half-game up on the Atlanta Hawks who thankfully are in the midst of a three-game slide. It doesn't get any easier for Chicago as they face off against the surging New York Knicks who have won 13 consecutive games.
The Bulls already snapped Miami's streak and hopefully they'll be able to do the same to New York.
The Good
Jimmy Butler (28 points, seven rebounds) had a career night. It's just a shame it had to come in a loss. The Marquette alum was the best player on the floor by far, connecting on 10 of his 12 field goal attempts and doing a great defensive job on counterpart Rudy Gay (19 points, six rebounds). Nazr Mohammed (six points, 10 rebounds) was solid on the glass for Chicago, as was Carlos Boozer (19 points, 11 rebounds) who put up a double-double. Malcolm Thomas (six points, eight rebounds, two assists, one steal, one block), who was signed for the remainder of the season, also played well in extended minutes, putting his effort and energy on display for the Bulls. Chicago was a +7 in the rebound category (40-33), +10 scoring in the paint (48-38), +15 in second chance points (21-6) and +4 in bench scoring (32-28). Chicago also shot the ball well from beyond the arc, connecting on 59 percent of their three-point attempts.
The Bad
It's hard to believe that even after leading in so many key statistical categories, the Bulls never held a lead against the Raptors. That's partially because the team only shot 43 percent from the field while they allowed Toronto to shoot 51 percent. The Raptors also pushed the tempo at will, outscoring the Bulls in fast break points, 16-9.
The Ugly
Nate Robinson (22 points, four assists) and Boozer combined to shoot 14-42 from the field with Nate going 7-22 and Carlos, 7-20. You're not going to win many games with two of your key players shooting the ball so poorly.
Normal 0 false false false EN-US JA X-NONE /* Style Definitions */ table.MsoNormalTable {mso-style-name:"Table Normal"; mso-tstyle-rowband-size:0; mso-tstyle-colband-size:0; mso-style-noshow:yes; mso-style-priority:99; mso-style-parent:""; mso-padding-alt:0in 5.4pt 0in 5.4pt; mso-para-margin:0in; mso-para-margin-bottom:.0001pt; mso-pagination:widow-orphan; font-size:12.0pt; font-family:Cambria; mso-ascii-font-family:Cambria; mso-ascii-theme-font:minor-latin; mso-hansi-font-family:Cambria; mso-hansi-theme-font:minor-latin;} Follow Outside Shot on Twitter (@Outside_Shot) for more Bulls news and information