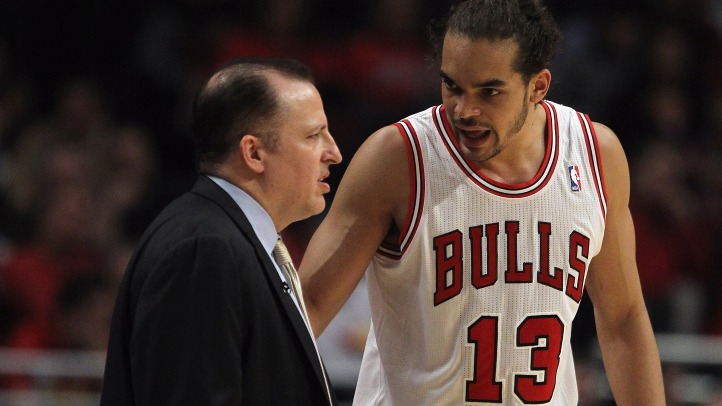 With the Bulls 1-2 this season, most observers have chosen to make Derrick Rose's struggles with shooting and taking care of the ball the primary focus. But Tom Thibodeau – who acknowledges that his entire team isn't playing well – has not so subtly pointed the finger elsewhere.
"I'm not surprised that some people are not in rhythm yet. You can't miss an entire training camp or a good chunk of it and expect to play well. You have to put the time and work into it," said Thibodeau after the team's practice on Tuesday.
Although the coach didn't come straight out and say it, the only person who missed a significant portion of training camp is Joakim Noah. The All-Star center suffered a groin strain after slipping on the floor during the opening week of camp and only appeared in one preseason contest against the Detroit Pistons.
Noah spent most of training camp rehabbing his groin and working on his conditioning, but that didn't sit too well with Thibs.
"You can do all the conditioning on the side that you want, if they're not participating in the contact and you're not competing – competing is what gives you an edge," the coach said. "You can ride a bike forever; you're not competing. You have to get used to competing. This is a competition; it's not a show. It's a competition. You've got to go after people and that's what we've got to get back to."
The Bulls travel to Indianapolis Wednesday night to face the Indiana Pacers, who are coming off a victory over the Detroit Pistons on Tuesday and are a perfect 4-0 this season. The coach hopes to see a better showing than what his team has put forth so far, and even though he's called out his center in the media, Thibodeau knows it's never just one person who is to blame.
"We need everyone. It's not a Derrick issue. This is a team issue. This is a Bulls' issue," he said.