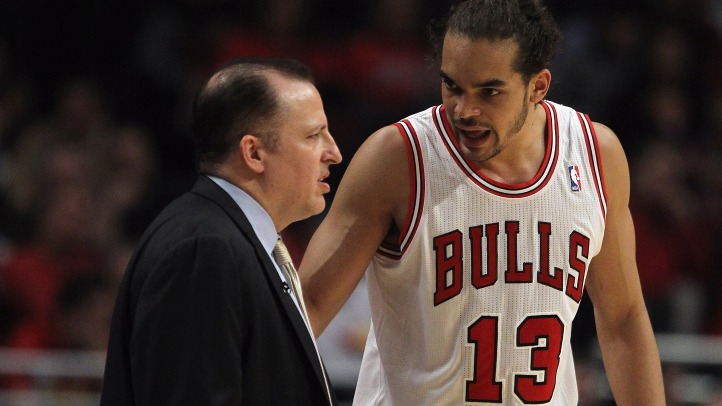 For all the success Tom Thibodeau has had in his stint as head coach of the Chicago Bulls, criticism has never been far behind. The biggest knock against Thibs thus far is his insistence on riding his best players and having them log heavy minutes game after game.
Many have speculated this tactic has caused injuries to players because of physical fatigue, but no one within the organization has said anything publicly until Joakim Noah spoke up Saturday night after the Bulls defeated the Brooklyn Nets.
"What do you want me to say? Yeah, I'm tired, pretty tired," said Noah after playing 41 minutes against Brooklyn and who is averaging a career high in minutes at 38.3 per game. "We've got a great coach, but he doesn't understand the whole rest thing yet, I don't think. But it's all good. We all want to win, so it's good."
They say that winning cures everything, and that seems to be the case with the Bulls. Guys seem to be willing to sacrifice whatever it takes to keep putting up W's, which is admirable, but physically, it can catch up to you.
When asked about his strategy – after the Bulls' win over the Philadelphia 76ers last Thursday and the aforementioned Noah logging 45 minutes in the game – Thibodeau seemed somewhat dismissive of the thought that his penchant for not giving players adequate rest is a problem.
"If you have young guys and they can handle the minutes, you play them," Thibodeau explained. "I understand if a guy is in his 30's, you try to prolong things and you have to be more cautious, so you monitor those minutes, but this is not anything new. This has gone on in the NBA for a long time.
"If you have a guy who's in his prime and he's a primary player, then he's going to play. That's the way it is. I sat on that other bench when [Michael] Jordan, [Scottie] Pippen and [Dennis] Rodman never came out. I sat on that bench playing against San Antonio when Tim Duncan never came out. So all this stuff about minutes, yeah, I understand that. If a guy is in his 30's, you manage his minutes. If a guy is young, he can handle it."
In theory, Thibs is right. Yes, there was a time in the NBA where it seemed like guys were made of Teflon and they could handle the rigors of playing heavy minutes in a full, 82-game season.
But today's players are different; they seem to be much more fragile and prone to injury than their predecessors. Because of this, as a coach, you have to be more health conscious and playing your guys a ton can, and has, caused bodies to break down, especially on this team.
But these Bulls don't see things from the same perspective. As long as the team is winning, as Joakim Noah said, "it's all good," and they don't care what anyone else thinks.
"I don't have a choice. This is my job and this is my life. Everything is built around this. There's nothing better right now than winning basketball games," said Noah. "It doesn't matter [what observers believe about the Bulls]. It really doesn't matter."
Follow Outside Shot on Twitter (@Outside_Shot) for more Bulls news and information