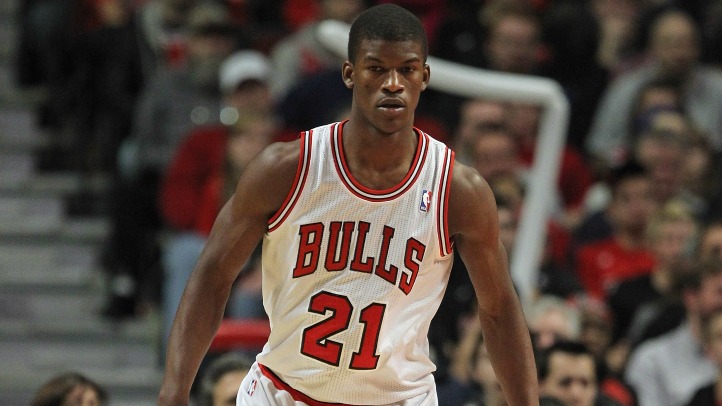 Jimmy Butler was expected to take a big leap this season after barely getting off the bench as a rookie last season. After a strong showing in the NBA's Las Vegas Summer League, Butler entered training camp with his confidence as a professional at an all-time high.
But a subpar shooting performance during the exhibition season had Butler, at times, doing more thinking than playing on the basketball court, and he relied on his teammates to keep his spirits up as he took his performances hard.
The organization – which picked up Butler's third-year option on Oct. 30 – has shown a belief in the second-year swingman, and so has Tom Thibodeau, evidenced by the coach playing him the entire fourth quarter in Tuesday's win over the Orlando Magic.
"He did a great job for us," the Bulls head coach told CSN Chicago on Wednesday after the team's practice. "He's been playing better and better, stays ready and he can guard multiple positions. He plays hard all the time."
Butler said his coach's confidence in him has boosted his own self esteem.
"It builds my confidence. It builds my teammates' confidence in me, so I feel great when I'm in there at the end of the game, no matter how many minutes I may play," said Butler.
When Jimmy was taken out of Marquette with the 30th overall pick in the 2011 NBA Draft, it was clear what the Bulls had in mind for him: He was to be the understudy for Luol Deng. His length, athleticism and his prowess on the defensive end would prove to be valuable, even though his offensive game continues to be a work in progress.
"My job is to go in and shut down whoever--or attempt to shut down whoever--they assign me to court and crash the offensive boards, be an energy guy and make an open shot when it's needed," said Butler. "I feel like I work hard enough to where I can battle day in and day out with anybody. I've got great teammates, so I see their work ethic. So, it makes me want to get in and do the same thing."
As the season progresses, Jimmy Butler will continue to improve. He's a hard worker and Bulls fans can count on him to give maximum effort each and every night.