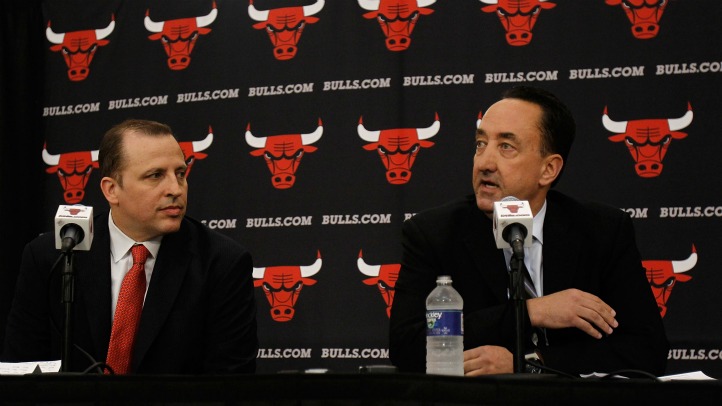 Before games, Chicago Bulls assistant coach Ron Adams could routinely be seen working with players on their shot, most notably with Derrick Rose. But the longtime NBA assistant won't have that luxury come next season as he and the team have parted ways.
The departure of Adams is a curious one considering the move to relieve him of his duties didn't come from Tom Thibodeau – who is in charge of hiring/firing his own staff with management's approval – but general manager Gar Forman, causing some to speculate that their may be a rift of some sort between the two men.
The Chicago Tribune reported over the weekend that Adams was upset with personnel decisions, but that there could also be other mitigating factors as well.
Said Forman on his decision to not renew Adams for another season (the coach had been working under one-year deals): "We want to thank Ron for what he's brought and wish him the best of luck in the future. We make tens if not hundreds of decisions every year, from free agency to trades to the draft to different personnel within the organization. When we make a decision like this, it doesn't serve anybody well to go into detail. The decision was made by me because I felt it was best for the Bulls moving forward."
"Ron is a great friend, an outstanding coach and I will miss him," Thibodeau said.
However, other comments made by Forman indicate there could be something going on between the front office and the head coach, but if there is, it's likely to not become public knowledge considering how tight-lipped the Bulls are. So for now, the only thing we can do is try and read between the lines.
"Tom makes the decisions on the floor. I think he's as good a coach as there is in the NBA. I think he does a great job," Forman remarked. "Do I agree with absolute every decision he makes? We communicate and probably not. But I'm going to support decisions he makes. And I think he's going to support decisions I make.
"As long as once they are made, we unite and move forward because the goal is to make this team better and compete for a championship as we move forward. At the end of the day, Tom is going to recommend who he wants hired. At the end of the day, I've got final say over personnel, as far as coaches."