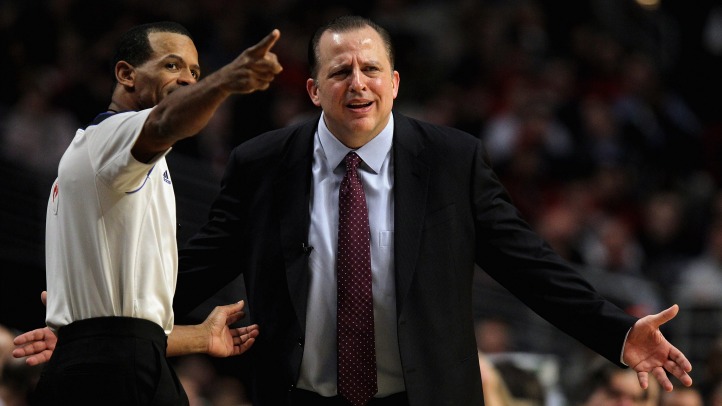 The last three games from the Chicago Bulls have been enough to drive fans crazy. First it was a second consecutive home loss to the Milwaukee Bucks, a team with an interim head coach in a game that should have been an easy victory instead of a 106-94 loss.
But the team seemed to get it together after that while almost handily defeating the second place New York Knicks on the road at Madison Square Garden Friday night, 108-101. Then on Saturday evening, Chicago played host to the Phoenix Suns, a team that had lost 12 consecutive road contests and was laying their fourth game in five nights, and the Bulls still lost, 97-81.
Without Derrick Rose, expectations for this squad this year weren't very high. It was a given that there would be some ugly wins and even uglier losses, but no one expected the problems that we now see from the Bulls: awful play at home and even worse still, they now seem to be playing down to their competition.
After being one of the strongest home teams in the NBA the last two seasons, the Bulls find themselves at 10-10 at the United Center this year with bad losses to the New Orleans Hornets, the Milwaukee Bucks (twice), the Charlotte Bobcats and the Suns, the second-worst team in the Western Conference.
Tom Thibodeau seemed especially frustrated after the Suns loss and seemed to bear the brunt of the blame for the team's inconsistent play of late.
"My job is to have us ready and we have to play with more intensity, more of an edge and we're not doing that, so we have to correct that," Thibs said Saturday night. "We have to be ready for everybody and we have to know everybody, inside and out. We have to do better with that. I have to do better with that. I have to make sure we're ready. I've got to get intensity out of our team. I've got to take a hard look at everything right now … we have to circle the wagons. We've got to take a hard look at everything that we're doing and everyone has to do it, starting with me, so I've got to get more out of our team and that's my job."
The Bulls have had a number of issues this season, but traditionally speaking, playing hard has never been a problem in the Thibodeau era until now. There have been numerous games, especially at home, where the team has come out flat and that usually resulted in losses.
"We're 10-10 at home. That's not very good; that's very average," Thibodeau said. "So there's obviously a problem if we're going on the road, beating some of the best teams and coming home against lower-echelon teams, and not competing,"
Whatever the problem, Tom Thibodeau is in no mood to make excuses. The coach feels there is only one, simple solution to fixing the Bulls woes.

"We've got to fix it. I think if we all knew what the problem was, we'd try to do something … we've got to compete. Compete harder, play together and play for one another."
Follow "Outside Shot" on Twitter (
@Outside_Shot
) for more Bulls news and information.