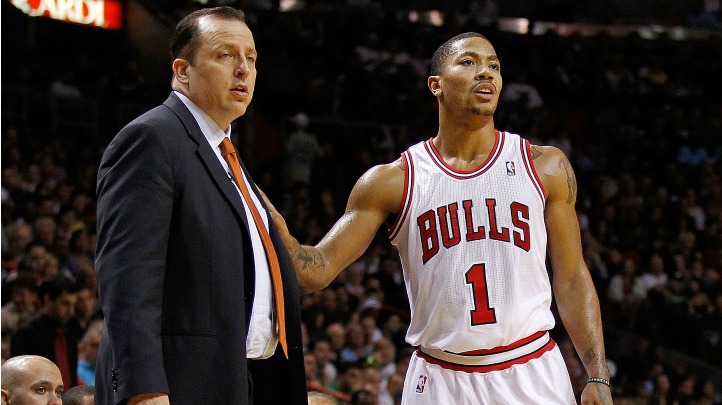 No matter if a team has been together for years or joining forces for the very first time, chemistry will always need to be developed. That's Tom Thibodeau's focus through the first week of training camp as Chicago prepares to take on the Indiana Pacers in their first preseason contest on Saturday night.
With Derrick Rose back, the team needs to once again become acclimated to having him around and he, in turn, must acclimate himself to once again being on the court with his teammates. But Thibs says it's bigger than the acclimation of D. Rose.
"It's not just him. That whole unit has to get used to playing together," Thibodeau told the Chicago Tribune after Sunday's second full day of practice at the Berto Center. "It's not only his timing but it's everybody's timing and spacing and execution. That's on both ends."
Rose has said he feels like a basketball player again and even though his injury never kept him away from the team, being around and being "around" are two very different things. His presence on the floor again is an adjustment for everyone, but Thibodeau says the fact the core – including Rose – has been together for a while makes the re-acclimation process a bit smoother.
"He's been around, and obviously the core of the team has played with him before so that's to me a big plus. But you have to re-establish your chemistry," Thibodeau reiterated. "We start from a zero base from last year and build from there, but the fact that these guys have been together for a while has been a plus. It allows you to move along much quicker. Because we've been through it, and we've added a few things here and there, but the foundation, they have a pretty good feeling of what to expect."