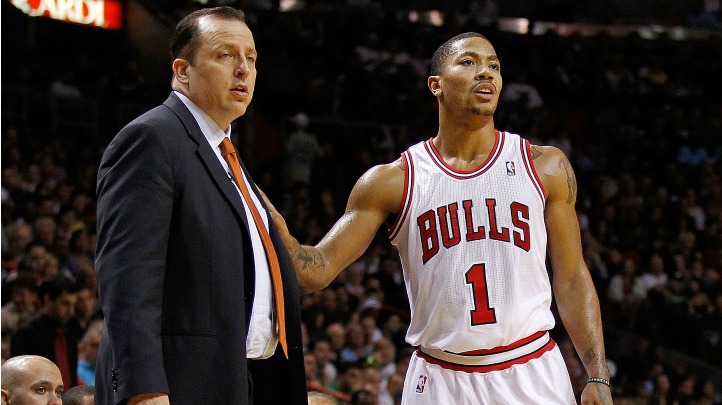 Many fans were worried when news came that Derrick Rose wouldn't suit up to play against the Washington Wizards over the weekend in Rio de Janeiro. After experiencing "soreness" in his surgically repaired left knee, the Bulls star was scratched from the lineup and watched his teammates squeeze out a 83-81 victory and move to 3-0 on the preseason.
But according to Tom Thibodeau, there is no need to worry about D. Rose's health and that sitting him is all a part of the process.
"We anticipated giving him time off – we view our training camp as the entire month [of October]," Thibodeau explained to reporters in Brazil. "So if he needs a day or needs a couple of days, we'll do that. But we're always concerned about anything that keeps a player out."
The team traveled back to Chicago after Saturday's game and will practice at the Berto Center on Monday afternoon. It's unclear as of yet if Rose will practice or play in Chicago's preseason home opener against the Detroit Pistons on Wednesday, but he did say that if it were left up to him, he would've played Saturday against the Wizards.
The team is instead choosing to err on the side of caution and with the way injuries have decimated the Bulls over the past few seasons – eliminating any hope of a run toward a championship – it appears there is a new philosophy on the sidelines with regards to minutes management, something that Tom Thibodeau has oft been accused of ignoring in the past.