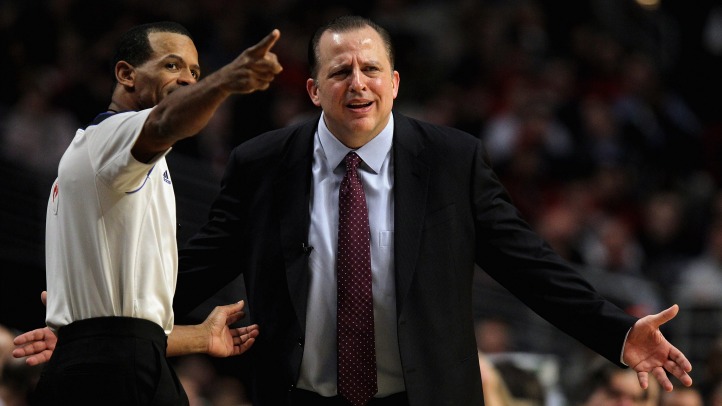 Tom Thibodeau has been fined $35,000 by the NBA for his critical comments toward the officiating during the Chicago Bulls' loss in Game 3 on Friday night. The head coach feels his team isn't getting any calls in their series with the Miami Heat and he said as much, albeit cryptically, after the Bulls' loss.

"I'm watching how things are going," he said. "I watch very closely."
Thibodeau declined to comment on the fine.
As for the other Friday night infraction in which Nazr Mohammed's shove on LeBron James resulted in him being ejected, no announcement has been made by the league on whether the veteran center will be suspended from Game 4. Mohammed said he is choosing not to focus on the matter any further.
"We're not really going to talk about that today. I'm trying to move on from that," Mohammed told CSN Chicago. "I'm just getting myself prepared to play tomorrow. You know it's a big game for us. We have to defend our home court. They took back home-court advantage by coming in our gym and winning, and the most important thing is to win tomorrow."
Game 4 tips off Monday night at 6 p.m.
Normal 0 false false false EN-US JA X-NONE /* Style Definitions */ table.MsoNormalTable {mso-style-name:"Table Normal"; mso-tstyle-rowband-size:0; mso-tstyle-colband-size:0; mso-style-noshow:yes; mso-style-priority:99; mso-style-parent:""; mso-padding-alt:0in 5.4pt 0in 5.4pt; mso-para-margin:0in; mso-para-margin-bottom:.0001pt; mso-pagination:widow-orphan; font-size:12.0pt; font-family:Cambria; mso-ascii-font-family:Cambria; mso-ascii-theme-font:minor-latin; mso-hansi-font-family:Cambria; mso-hansi-theme-font:minor-latin;} Follow Outside Shot on Twitter (@Outside_Shot) for more Bulls news and information