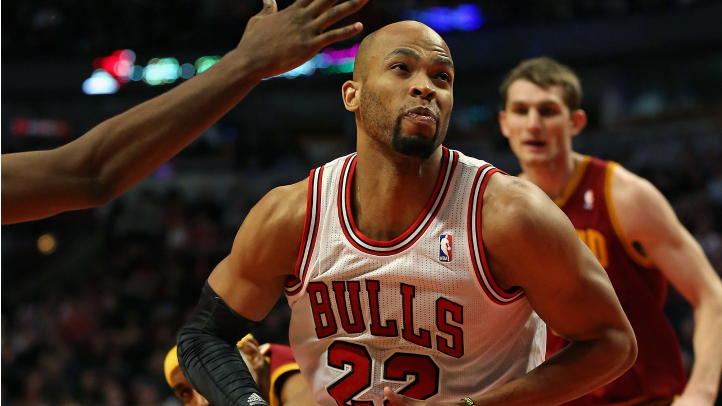 It looks like Taj Gibson will be spending some time in Las Vegas this summer. According to ESPN's Marc Stein, the Chicago Bulls big man has been invited to participate in the Team USA mini-camp to be held in July.
The premise behind the camp is to give up-and-comers in the NBA an opportunity to compete for a spot on the 2014 World Championship squad and in the 2016 Summer Olympics that will be held in Brazil.
Gibson may have locked up a spot in the 24-man pool after being invited last summer to participate on the USA Select Team, which he says was a fun experience.
"Right off the bat, I noticed there's a lot of talent in the building," Gibson told Bulls.com last summer. "There's a lot of length and a lot of up and coming starters for different teams. It's been great, playing pickup and running up and down the floor. It's a great experience because you're going up against the world's best. I'm having a lot of fun."
The camp will be held from July 22-24, with an intra-squad scrimmage to take place on July 25.
Normal 0 false false false EN-US JA X-NONE /* Style Definitions */ table.MsoNormalTable {mso-style-name:"Table Normal"; mso-tstyle-rowband-size:0; mso-tstyle-colband-size:0; mso-style-noshow:yes; mso-style-priority:99; mso-style-parent:""; mso-padding-alt:0in 5.4pt 0in 5.4pt; mso-para-margin:0in; mso-para-margin-bottom:.0001pt; mso-pagination:widow-orphan; font-size:12.0pt; font-family:Cambria; mso-ascii-font-family:Cambria; mso-ascii-theme-font:minor-latin; mso-hansi-font-family:Cambria; mso-hansi-theme-font:minor-latin;} Follow Outside Shot on Twitter (@Outside_Shot) for more Bulls news and information