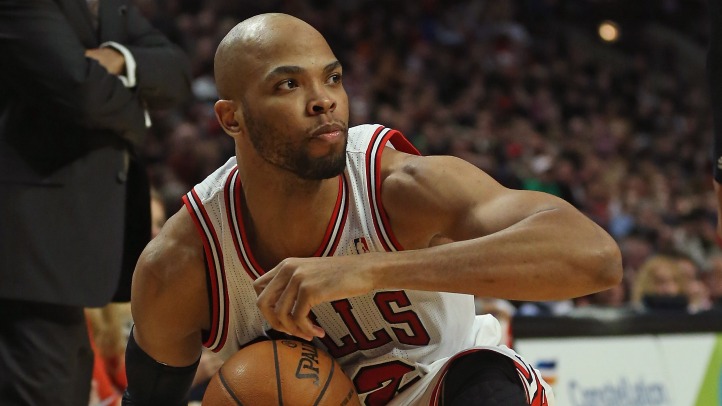 Taj Gibson's sprained right MCL forced him to miss Chicago's last 10 games. Chicago went 4-6 during that stretch as they were forced to play shorthanded with Gibson, Kirk Hinrich and Rip Hamilton all missing games due to injury.
But the reserve power forward made his return to the basketball court Thursday night, suiting up against the Trailblazers and nearly notching a double-double with 14 points and nine rebounds in almost 25 minutes of action. After missing so many games, Gibson was happy to be playing basketball again.
"I just wanted to go out there and lay it all on the line," Gibson told reporters at his locker after the game. "I didn't care about how hurt I was, I just wanted to go play. It's not a time for me to worry about my injuries or anything like that. I wanted to be there for my teammates because I know they'd be there for me."
If 25 minutes on the court seems high for a guy coming back from a pretty serious knee injury, it is. But Tom Thibodeau left it up to Gibson to see how long he could actually stay out on the floor.
"Coach Thibs was monitoring my minutes – and he asked me if I wanted to come out – and I told him I just wanted to keep playing. I can't worry about how hurt I am, I just have to keep playing."
Gibson's drive to push himself is clearly rooted in his own understanding that the Bulls have serious issues on their hands at the moment. As they continue to get healthy, the Bulls know that playoff seeding is on the line as well. Both are equally important, especially down the stretch run of the season.
"It's a combination of both. We need guys healthy and at the same time, we're still jockeying for position," explained Gibson. "The main thing is we're trying to get back right – trying to get our defense in order – and get ourselves feeling good … We've got a lot of games left and we're trying scratching and clawing right now just like every other team in the East."
Follow Outside Shot on Twitter (@Outside_Shot) for more Bulls news and information.