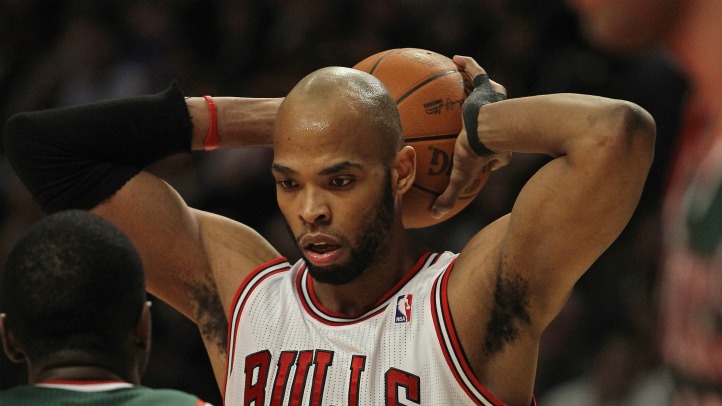 No one expected this of Taj Gibson. Not this year. The Bulls' most valuable reserve off the bench is having a dreadful 2012-13 campaign and the drop-off is surprising because of what he's shown since coming to the team three years ago as a rookie.
The 27-year-old is having the worst statistical season of his career as his scoring (6.3 points per game), rebounding (4.9 rebounds per game) and field goal percentage (42 percent) are all down this year. Ironically enough, this drop in production is coming in roughly the same number of minutes he's played since entering the league.
So the question on everyone's mind is this: What the heck is wrong with Taj Gibson?
You certainly don't want to think he's in a period of regression in his fourth season after showing improvement over the first three years, but this decline is as mysterious as they come. As the lone holdover from the vaunted "Bench Mob," Taj was expected to emerge as the new leader of the reserves and play an important role in the team's success.
But that hasn't been the case as Gibson has only cracked double-figure scoring in four of the Bulls' 17 games. He also has yet to have a double-digit rebounding night and his overall play hasn't been nearly at the same level we've seen in year's past.
Was it the stress of the contract negotiations early? Is it the pressure to perform at a higher level now that he's signed his new deal? Whatever the case, this isn't the same Gibson that put Dwyane Wade on a poster and threw down an emphatic, one-handed tip dunk against the Miami Heat in Game 1 of the Eastern Conference Finals two years ago.
This isn't the same Gibson that stepped up in the playoffs last year after Derrick Rose and Joakim Noah both went down with injuries. No, this Gibson is a stranger and Bulls fans would like to have the old one back.