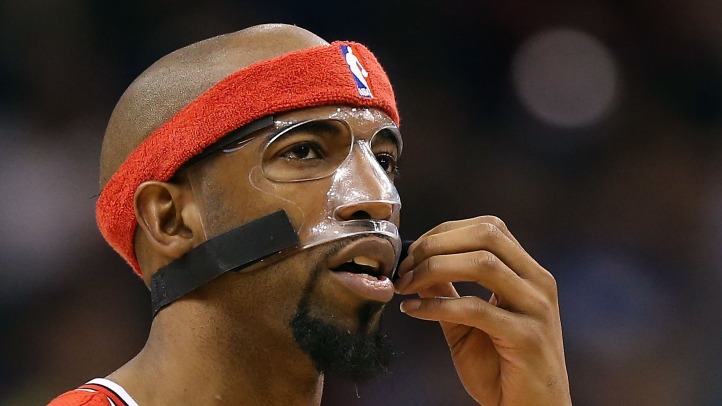 Rip Hamilton addressed the media for the first time since tearing the plantar fascia in his left foot against the Philadelphia 76ers on Saturday night. According to CSN Chicago, Hamilton said he could be out up to a month with his injury, but the 34-year-old guard hopes to be back on the court sooner than that.
"They [the Bulls' medical staff] said four weeks, but they said that I can probably come back before that. Everybody's body's different. It's just one of those things where you just want to try to get better every day."
Hamilton had to be helped off the court after the injury occurred, but did return to the game late and contributed to the Bulls 93-88 victory. He says the complete tear of his plantar fascia was a good thing after speaking with team physician, Dr. Brian Cole.
"Talking to the doctor [Brian Cole, the Bulls' team physician], he said that it was probably a good thing that it happened, just so the whole [plantar fascia], when you have it, it tends to stick with players all year, so when it popped, it was actually a good thing. Once it heals, it'll be okay."
Unfortunately, Rip won't be able to compete against his former team on Friday night, something that every athlete – not just basketball players – relishes.
"This is the game I've got on my calendar, if any. This is the one game that I mark before the season even starts and say, 'All right, I can't wait,' and to be injured, it's frustrating to me because you want to help your team get a win."
Follow "Outside Shot" on Twitter (@Outside_Shot) for more Bulls news and information.