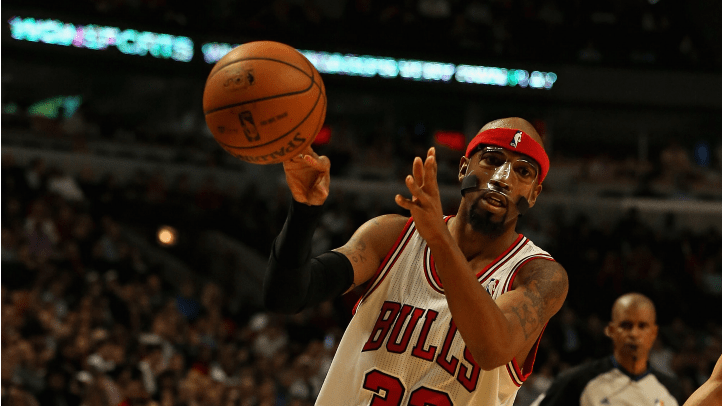 Rip Hamilton had a solid return performance Saturday night.
Hamilton missed 12 straight games after tearing the plantar fascia in his left foot on Dec. 1. But he was back in the starting lineup for the Bulls and scored nine points on 4-9 shooting from the field in just under 15 minutes of work.
After missing so much time, Hamilton was glad to be back on the court with his teammates. He didn't feel too many lingering effects in his foot after the game on Saturday night.
"I felt pretty good," said Hamilton. "[My foot] was sore, but I told the trainers that with the adrenaline, it would be kind of easy for me to not be able to think about the pain. But I felt good."
He certainly looked good.
Hamilton didn't appear to have any problems playing his game, which consists of running his defender along the baseline off multiple screens, freeing himself up for those midrange jumpers that have been a staple of his offensive arsenal for years.
But despite appearances and making it look so easy, Hamilton did say he struggled with the mental aspect of coming back from the injury, a mindset typical of any athlete.
"The biggest thing I was worried about was the change of direction when somebody is guarding me," explained Hamilton. "The biggest part for me was stopping and going. With my style of play, I like to get underneath the basket, bang a little bit, then go one way and then change directions and go the opposite way. And that was the scary part for me coming into the game. I knew I could shoot because I'd been doing that in practice. The biggest thing for me was stopping on a dime coming off a screen and getting my shot off. But I was able to do that."
Hamilton said he applied heat to his foot while he was on the bench because he felt some soreness, but there aren't any limitations in terms of his movement. At this point, it's just pain management with no risk of re-injury.
"The doctor said I can't hurt my foot anymore than what it is and mentally, that's what I think of," he said. "There's no way I can hurt it any farther than what happened – it tore. That's a benefit for me when I'm out there playing now; to really stop on a cut and take the contact because I know I can't hurt it any more than what it is."
Follow "Outside Shot" on Twitter (@Outside_Shot) for more Bulls news and information.