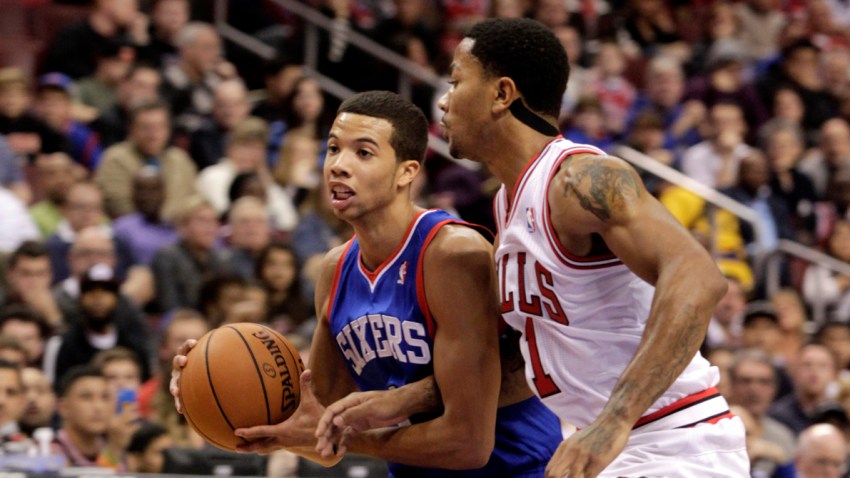 The Chicago Bulls became the third victim of a team projected to be the worst in the NBA as they fell to the Philadelphia 76ers 107-104 Saturday night. So far this season, the Sixers – who were supposed to be "tanking" this season for a shot at projected No. 1 pick in next years draft, University of Kansas freshman Andrew Wiggins – have defeated the Miami Heat and Washington Wizards.
The Bulls, coming off a buzzer-beating victory over the New York Knicks in their home opener on Thursday night, seemed to have the game against Philadelphia under control, going into halftime with a 15-point lead.
But Chicago was outscored 58-40 in the second half and in the fourth quarter, the Bulls were just 7-18 from the field, opening the door to a Sixers victory.
Derrick Rose continued his offensive struggles scoring 13 points on 4-14 shooting from the field and turning the ball over eight times. His rookie counterpart, Michael Carter-Williams, who nearly put up a quadruple-double against Miami in his first ever NBA game, scored 26 points and dished out 10 assists in the game.
Carlos Boozer continued his strong play this season with 22 points and 10 rebounds, while Luol Deng scored 20 points and grabbed seven boards.
As a team, Chicago shot 45 percent from the field, but just 21 percent from behind the three-point line. And the Bulls dominated on the glass, outrebounding the Sixers 51-39.
The Bulls have plenty of time to correct the mistakes they're made in the first three games, but it doesn't get any easier as their next game comes against Central Division rival, the Indiana Pacers, next Wednesday night at Bankers Life Fieldhouse in Indianapolis.
Notables:
Jokim Noah scored 10 points and grabbed nine rebounds in the game…. Jimmy Butler contributed nine points, six rebounds and four assists… Philadelphia outscored Chicago 33-19 in the third quarter… The Bulls were just 3-14 from long range in the game.