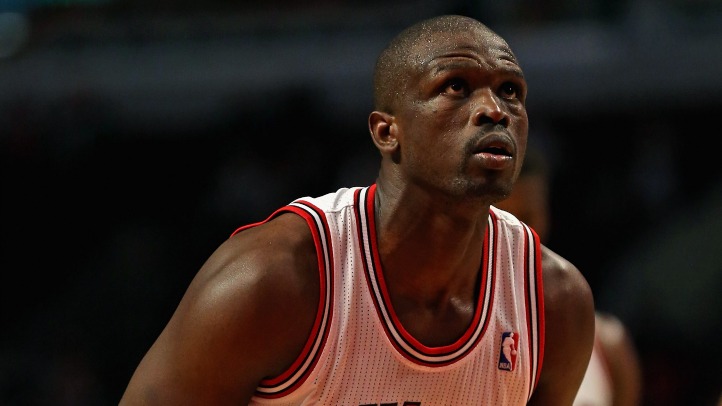 The Chicago Bulls and Philadelphia 76ers met on the basketball court for the first time since their fateful first round playoff series in April. While Bulls fans would like to forget that series altogether, they still wanted to see the home team get a victory over Philly on Saturday night at the United Center.
Chicago has been terribly inconsistent in the early part of the NBA season and went into the game with two goals. Not only was the team was looking for their first back-to-back victories in just over a month, they were looking to get back over .500 as well. It was mission accomplished on both fronts as the Bulls walked away with a 93-88 victory over the Sixers and moved to 8-7 on the season.
The Good
The Chicago Bulls had five players in double figures scoring, with four of those being in the starting lineup. Luol Deng (25 points, seven rebounds, seven assists) led the way and the Bulls also got good games from Joakim Noah (12 points, 13 rebounds, seven assists), Carlos Boozer (12 points, 12 rebounds), Rip Hamilton (15 points) and Taj Gibson (11 points, eight rebounds). Chicago dominated on the glass, outrebounding Philadelphia 50-37. The Bulls also got good bench production as they outscored the Sixers reserves, 23-13. Chicago shot 47 percent from the field and 57 percent from the three-point line in the game and dished out 28 assists as a team to Philly's 17.
The Bad
Kirk Hinrich (six points, six assists) continues to struggle with his shooting as he shot 2-6 from the field. Marco Belinelli (two points) struggled as well going 1-4 from the field. The Bulls turned the ball over 13 times in the game with Deng accounting for five of Chicago's giveaways.
The Ugly
Rip Hamilton went down late in the third quarter with a scary injury that just reeked of the bad luck the Bulls have had while playing the Sixers. Hamilton jumped in the air to make a pass and when he came down, he started limping. He had to be helped off the court and put any pressure on his left foot. It was initially speculated that Hamilton may have torn his Achilles, but fortunately, the injury turned out to be nothing more than a foot sprain.