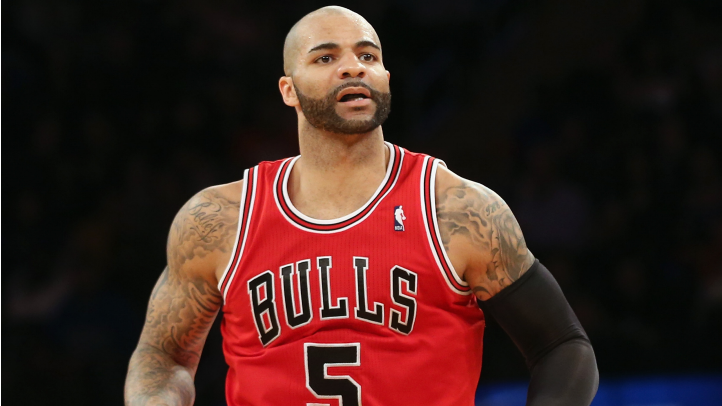 The Chicago Bulls sleepwalked into 2013 with some bad losses, including one to the lowly Charlotte Bobcats to end 2012. But the team appeared to have regained consciousness on Wednesday night with a 96-94 victory over the Orlando Magic, getting the New Year off on the right foot.
The win was even sweeter since Joakim Noah was sidelined with flu-like symptoms and was forced to sit the game out. Kirk Hinrich was also back in the starting lineup after missing the last game with his latest injury: a bruised kneecap.
But there's no time for celebration as the Bulls leave Orlando and head to South Beach to take on the rival Miami Heat Friday night.
The Good
Taj Gibson (21 points, 11 rebounds) has struggled this season and hasn't looked anything like the player we've become accustomed to seeing over the years. In fact, his play seemed to worsen after he signed his four-year contract extension. But with Noah out and Taj being thrust into the starting lineup, he played his best game of the season. Hopefully starting will give him a spark much like it did Marco Belinelli when Rip Hamilton was sidelined. Carlos Boozer (31 points, 11 rebounds) played his best game of the season, hitting a season high in points and was a key contributor in the win. And Luol Deng (23 points) continues to be the Bulls' most reliable and consistent player. Chicago also committed six turnovers, their second consecutive game where they didn't have a game with double-digit giveaways, but they were able to force the Magic into committing 12 turnovers. Chicago also dominated Orlando scoring in the paint (42-32).
The Bad
Although the margin wasn't much (36-35), the Bulls were outrebounded in their second consecutive game. Aside from defense, Chicago is well known for their tenacity on the glass and that seems to be missing right now.
The Ugly
The starting backcourt of Kirk Hinrich (7 points, eight assists, three steals) and Rip Hamilton (4 points, nine assists) didn't have much of an impact offensively. Although they did play well in other facets of the game, they still combined to shoot just 4-15 from the field. The bench play wasn't much better as the four reserves that played combined to shoot just 3-12 from the field and scored 10 points as a unit.
Follow "Outside Shot" on Twitter (@Outside_Shot) for more Bulls news and information.